maalauksia elinvoimasta
Näyttelyni kertoo Ambaria- nimisen maailmani tarinaa maalausten ja valokuvien muodossa. Teoksissani olen sijoittanut digitaalisen valon tulosteiden muodossa figuurieni sisään sekä ulkomaailman valokuvallisiin objekteihin.
Olen pyrkinyt tekniikoita yhdistämällä luomaan vaikutelman ja idean figuurien elinvoimasta.
Käsittelen elinvoimaa valon kautta sekä tuomalla esiin figuurien persoonallisuuden öljyväritekniikan avulla. Elinvoima on jotain joka muuttuu läpi ihmisen elämän ja on näkymätöntä ihmisen visuaalisille aisteille. Ihmisen bioluminisenssia esiintyy kehon kemiallisten prosessien tuloksena, ja sen tuottama valo on noin tuhat kertaa ihmisen visuaalista havaintoa pienempää.
Yhdistämällä ajatuksen ihmisen sisäisestä valosta maalaustaiteen traditioon sekä figuurien persoonallisuuden pysyvyyteen teknologian aikakaudella, pyrin luomaan Ambaria- maailmastani mahdollisimman konkreettisen kuvan nykymaalaustaiteen jatkumoon.
Taiteilijan työskentelyä tukee Taiteen edistämiskeskuksen Näyttöapurahalautakunta
paINTINGS ABOUT LIFE FORCE
My work is about creating a parallel world that deals with ecological issues, class struggles and the effects of technology. Mythologies, folklore tales and trash aesthetics are taking a more present-day form with the help of digital technology. Figures in my paintings are depicting a personification of matter that is being formulated with light.
The citizens of Ambaria have had their inner light made with prints in digital medium and being inserted under the oil painting technique.They demonstrate and idea about Life Force.
Something that changes through our lives and is a product of biochemical processes in our bodies. Humans too are bioluminescent and radiate light that is thousand times weaker than normal light and invisible for our senses. By connecting the idea about inner light with the oil painting tradition, as well as with the personality of the figures. I am trying to make Ambaria look as lifelike as possible.
The artist is supported by a Public Display Grant from Arts Promotion Centre Finland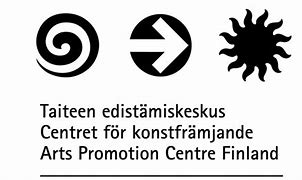 Anne-Marie Keckman (ALMA) 
Musiikillista improvisaatiota näyttelyyn 20.8.2020 klo 18-20