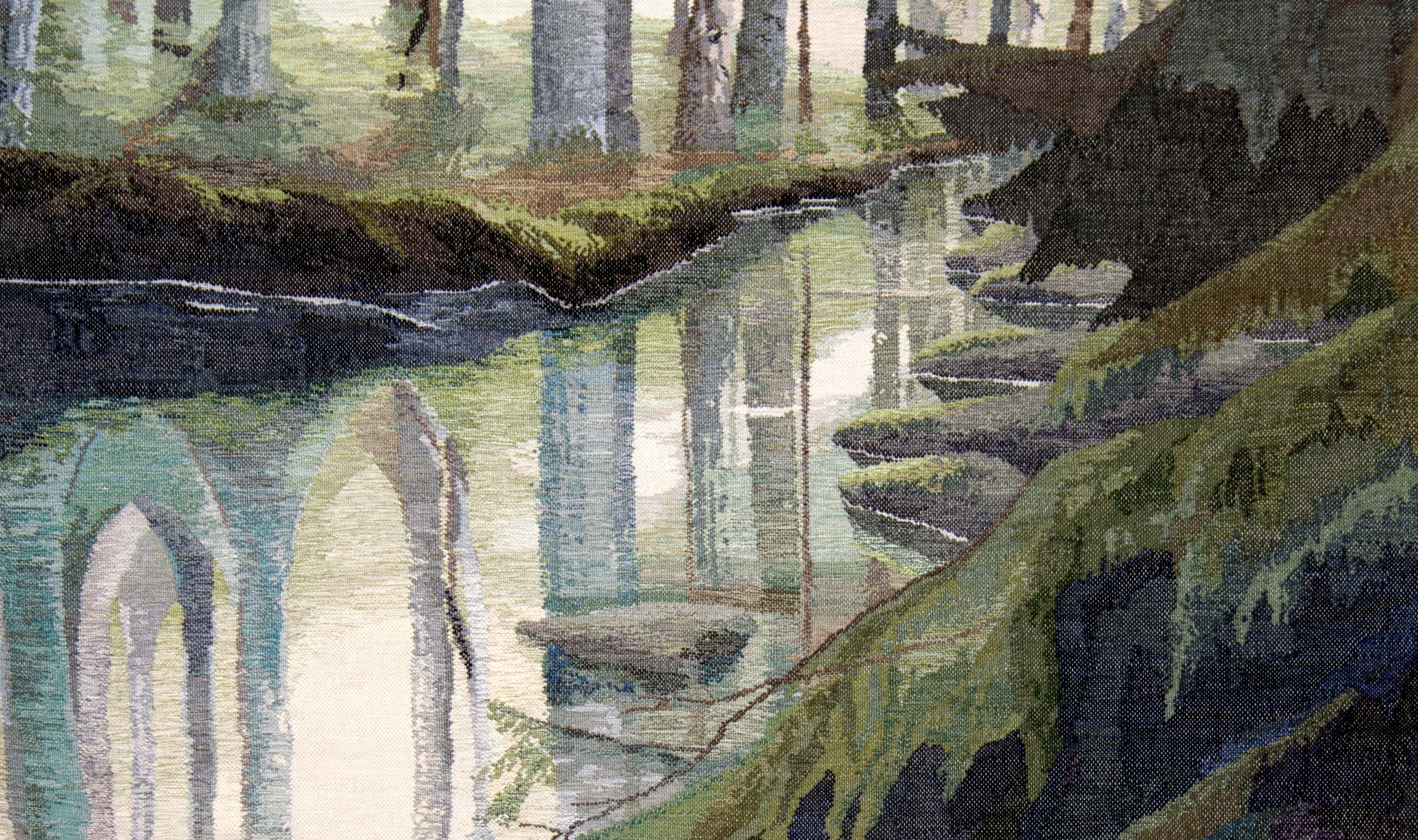 osa Ataraxia -triptyykistä (kuvakudos, 2020-23, kuvaaja Henna Mitrunen).
Soile Hovila: Suomalaisen kuvakudoksen jalanjäljissä – luento ja taiteilijatapaaminen
Helsinki Design Week 8.-17.9.2023 
Lauantaina 9.9. klo 13-15.
Tekstiilitaiteilija Soile Hovila esittelee Rauhan lähteellä -näyttelyä Galleria A2:ssa. 
Näyttelyn pääteos on kolme vuotta käsinkudottu, 11 neliömetrin kokoinen teos Ataraxia. Kuvakudos on suunniteltu stressaavan koronapandemian alussa, jolloin suurkaupunkien asukkaita kehoitettiin pysymään asunnoissaan, mutta Suomessa sai mennä luontoon rauhoittumaan. Teos kuvaa luonnon merkitystä sisäisen rauhan saavuttamisessa. Luento käsittelee myös Suomen Käsityön Ystävien merkittävää roolia suomalaisen kuvakudoksen historiassa 1900-luvun alussa.
Näyttely on avoinna 23.8.-10.9.2023 ti-pe 12-17 ja la-su klo 12-16.
Soile Hovila: Following the path of Finnish tapestry – Lecture and artist meeting
Helsinki Design Week 8.-17.9.2023 
On Saturday, September 9 from 13:00 to 15:00.
Textile artist Soile Hovila will present the exhibition "At the Spring of Tranquility" in Gallery A2.
The main work of the exhibition is Ataraxia, a work of 11 square meters that was handwoven for three years. The tapestry was designed at the beginning of the stressful corona pandemic, when residents of big cities were urged to stay in their apartments, but Finns were able to relax in nature. The work describes the importance of nature in achieving inner peace. The lecture also discusses the significant role of The Friends of Finnish Handicraft in the history of Finnish tapestry at the beginning of the 20th century.
The exhibition is open from August 23 to September 10, 2023, on Tue-Fri 12–17 and Sat–Sun 12–16.
Suomen Käsityön Ystävät ry edistää suomalaista tekstiilitaidetta ja käsityötaitoa. Vuonna 1879 perustettu yhdistys pyrkii uudistamaan kulttuuriperintöä näyttelyiden ja pedagogisen toiminnan kautta. Tekstiilitaiteilija TaM, FM Soile Hovila on erikoistunut kuvakudos- eli gobeliinitekniikkaan vuodesta 2001 lähtien. Valokuvalähtöiset kudonnaiset kertovat tarinaa ajankohtaisista asioista luonnon ja kauniin valon kautta.
The Friends of Finnish Handicraft promotes Finnish textile art and craftsmanship. Founded in 1879, the association strives to renew cultural heritage through exhibitions and pedagogical activities. Textile artist MA Soile Hovila has specialized in the tapestry technique since 2001. Her photo-based textile works use beautiful light and nature to tell stories about current issues.