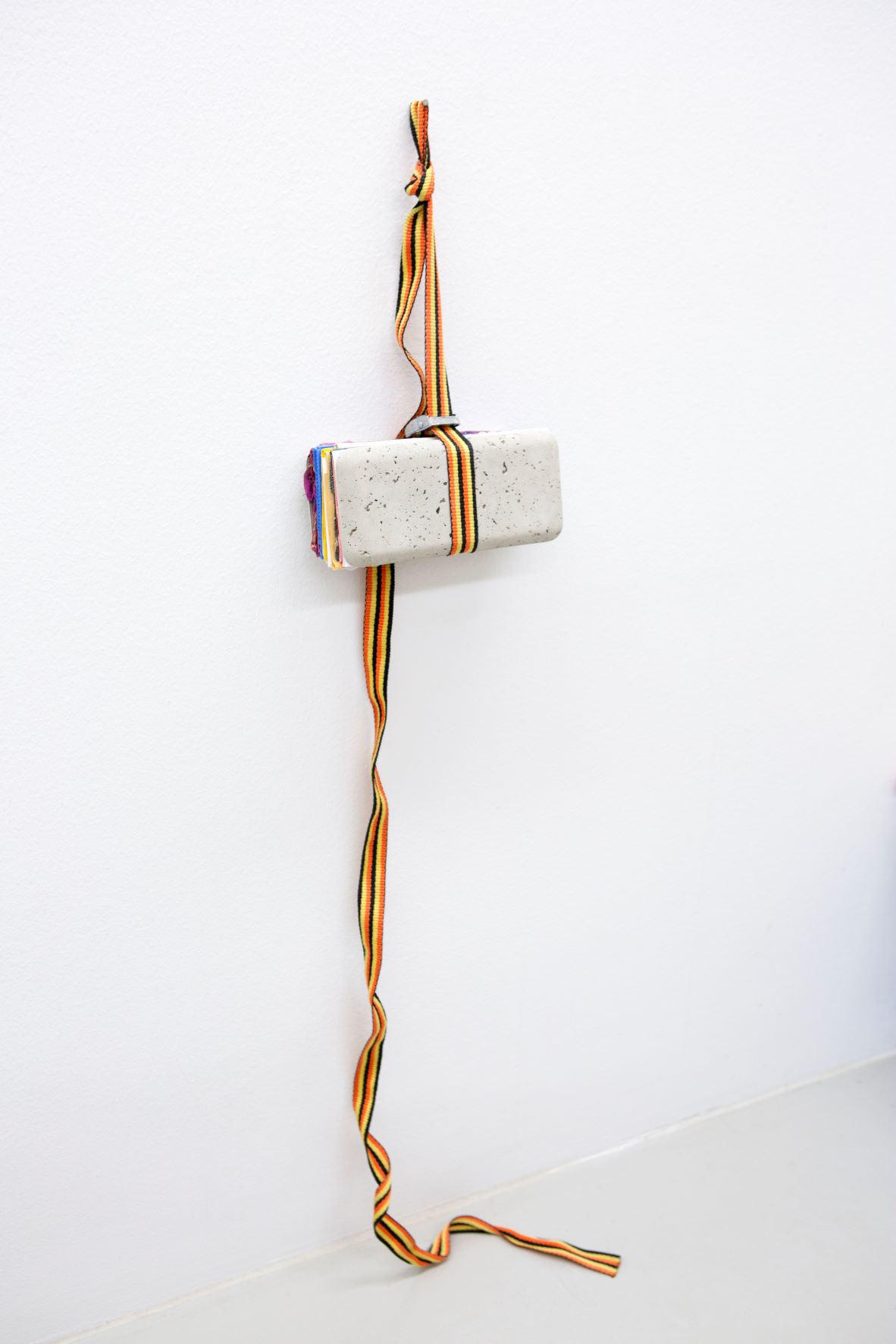 Päiväkirja, 2021. Photo: Noomi Ljungdell
Työhuoneeni läheltä purettiin yrityskiinteistö. Nyt siihen paikalle on valmistumassa uusia kerrostaloasuntoja. Matkalla työhuoneelleni jäin usein katselemaan massiivisia purkutöitä, tuhottavien sekä siirreltävien materiaalien määrää ja sitä järjestelmää, kuinka jokin muuttuu toiseksi; aiempi talo tarinoineen ammottavan tyhjäksi tontiksi, metalliputket rakennustelineiksi, kivi ja vesi betoniksi, työenergia rakennukseksi. Vaikka paljon tuhottiin, koin siinä suunnattomassa materiaalien ja työn koreografiassa jotain kiehtovaa ja kaunista. Hyvä rakennus on osaavien rakentajien varassa. Ollaan tekniikan, materiaalitietouden ja käsityön perusasioiden äärellä.
Taiteilijana käsittelen, tutkin ja hyödynnän jatkuvasti lukuisia erilaisia materiaaleja ja työvälineitä. Yleensä   niiden avulla muotoutuu maalaus tai piirustus. Joskus niitä jää myös käyttämättä, tulee tehtyä mokia ja siivottua roskiin.
Nyt opiskelin niitä toisin:  paneuduin monin tavoin materiaalien ominaisuuksiin, luonteeseen, niiden synnyttämiin assosiaatioihin ja antauduin myös niillä leikittelyyn. Kooltaan pieni onkin suurta ja kauas jatkuvaa, koristeellinen tai leikkisä saattaa vaikuttaa kuin meditaatio. Virttynyt tiskirätti ylistää keltaista perusväriä tai betonilaatat tiivistävät kaiken oleellisen.
Tähän näyttelyyn olen rakentanut materiaalikoosteita, mitkä nostavat itse materiaalit arvoonsa.
Halusin myös esittää toisenlaisen esteettisen näkökulman. Ylijäämän tai kertaalleen hyljätyn olen nähnyt toisin, kauniisti. Materiaaleista tiivistyi visuaalisia runoja, jotka ovat samanaikaisesti sekä syvästi rauhoittavia että keventäviä. Teoksista tuli mielen liikutuksen amuletteja.
Olen nauttinut suunnattomasti näille materiaalirunoille altistumisesta.
Sirkka Tapio: Poems from the atelier
A commercial building near my studio was torn down. Now new apartment buildings are being constructed on the site. On my way to my atelier I often stopped to watch the massive demolition project, the amount of destroyed material to be moved and the process by which something is transformed: the original building with all its stories changed into a wide, gaping lot, metal pipes into scaffolding, stones and water to concrete, the energy of construction into a building. Even though much was destroyed, I experienced this tremendous choreography of materials and activity as something fascinating and beautiful. A good building is the creation of skilled builders. It is the product of technology, knowledge of materials and craftsmanship.
As an artist I am constantly using, studying and exploiting many different materials and tools. Generally, they are used to create a painting or drawing. Sometimes too they go unused, or having being made a mess of, are cleared away to land in the trash.
Now I learned about materials in another way: I explored them in depth—their properties, character, and the associations that they evoke, and I also let myself treat them in a playful way. Though small in size, large and long lasting, decorative or playful, they can have a meditative effect. A faded dishcloth praises the primary colour yellow; concrete slabs condense all that is essential.
 For this exhibition I have constructed collages of materials that raise the materials' significance.
I also wanted to present a different aesthetic perspective. I saw surplus or objects used just once and then discarded in a different way, as something beautiful. From the materials I have used crystallised visual poems that are simultaneously profoundly relaxing and soothing. The works became amulets of mental emotion. I immensely enjoyed being exposed to these poems in material.