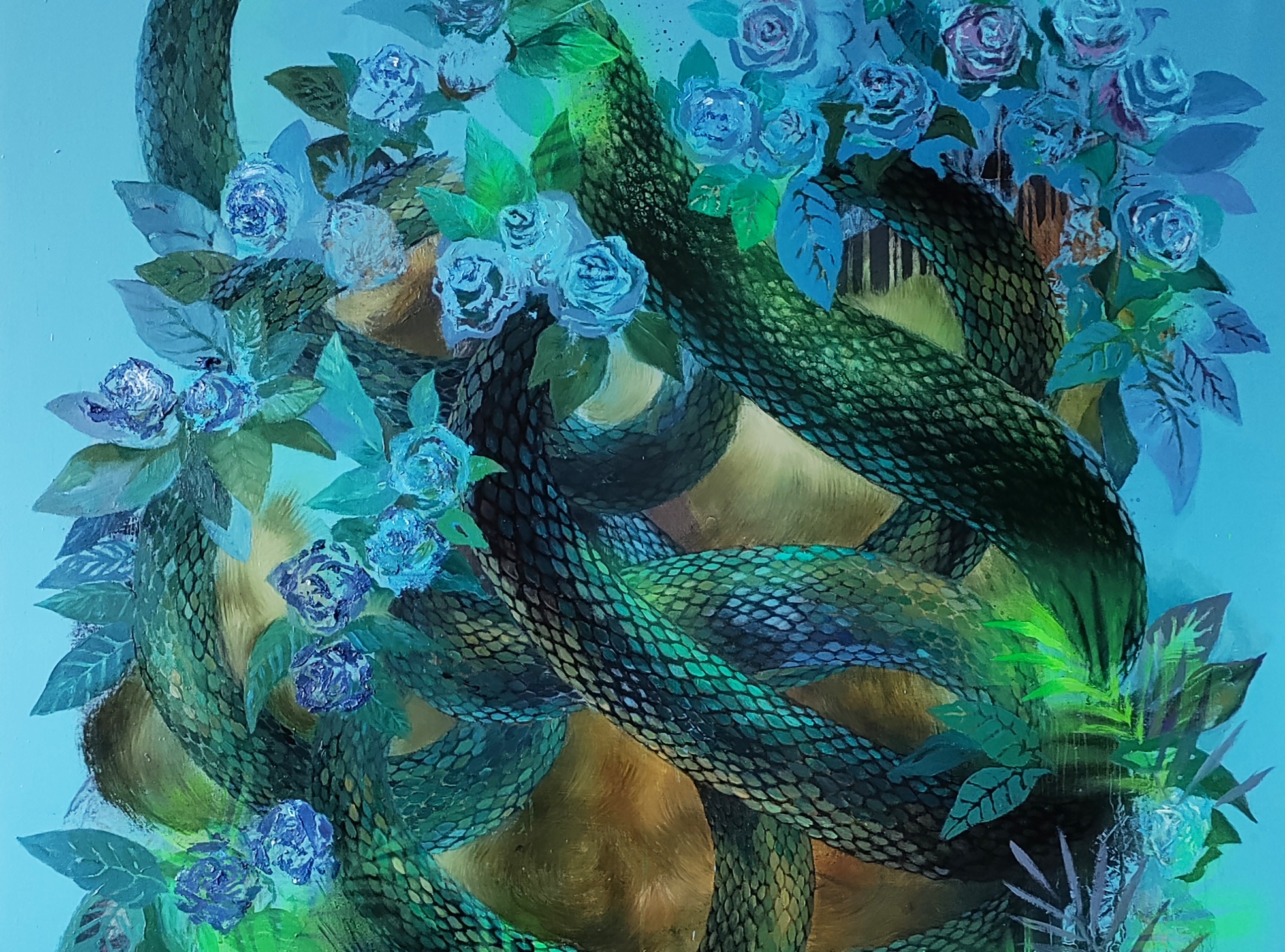 Luonto on taiteeni perusta. Maalaan öljyvärein eläimiä ja kasveja, jotka maalausprosessin edetessä muuntuvat usein surrealistiseen suuntaan. Minulle on luontaista käsitellä ihmisyyttä eläimen hahmon kautta. Käärmeet, hedelmät ja kasvillisuus symboloivat puutarhan kiellettyjä hedelmiä. Ne viestivät elämän ristiriidoista, joissa houkutteleva ja herkullinen voi muuttua luotaantyöntäväksi ja etäännyttäväksi.
Koen, että minussa ja taiteessani vaikuttaa kaksi vastakkaista, hyvin lappilaista tekijää; keskiyön aurinko ja kaamos. Teoksiini ikuistetut hetket kuvastavat sitä tunnelmaa, kun seisoo yksin kaukana korvessa suolla, jossa hiljaisuus sattuu korviin.
Sanna Juujärvi-Bremer on Kemijärveläislähtöinen, nykyään Kirkkonummella asuva taiteilija. Hän on valmistunut kuvataiteilijaksi Turun ammattikorkeakoulun taideakatemiasta vuonna 2018, ja opiskelee tällä hetkellä viimeistä vuotta kuvataidekasvatuksen erillismaisterikoulutuksessa Aalto-yliopistossa. Hän on jäsenenä mm. taidemaalariliitossa, Lapin taiteilijaseurassa sekä Espoon taiteilijakillassa. Aikaisempia yksityisnäyttelyitä Juujärvi-Bremer on järjestänyt ympäri Suomen mm. Rovaniemellä, Oulussa ja Helsingissä, sekä Berliinissä galleria Pleikussa. Hänen teoksiaan on mm. Rovaniemen taidemuseon, sekä Mäntyharjun kunnan kokoelmissa.
Nature is the foundation of my art. I paint animals and plants in oils, which, as the painting process progresses, often mutate in a surreal direction. It is instinctive for me to deal with humanity through the character of an animal. Snakes, fruits, and vegetation symbolize the forbidden fruits of the garden. They communicate the contradictions of life, where the attractive and delicious can become pushy and distancing.
I feel that I and my art are influenced by two opposing, very Lapland-influenced factors: midnight sun and polar night. The moments immortalized in my works reflect the mood of standing alone in a far-flung swamp where silence hurts the ears.
Sanna Juujärvi-Bremer is a Kemijärvi-based artist who now lives in Kirkkonummi. She graduated as a visual artist from the Turku University of Applied Sciences Academy of Art in 2018, and is currently studying the last year of Masters' degree in visual arts education at Aalto University. She is a member of the Finnish Painters' Association, the Lapland Artists' Association and the Espoo Artists Guild. Her works are included included in the collections of the Rovaniemi Art Museum and of the municipality of Mäntyharju.
www.sjuujarvi.wix.com/juujarvibremer