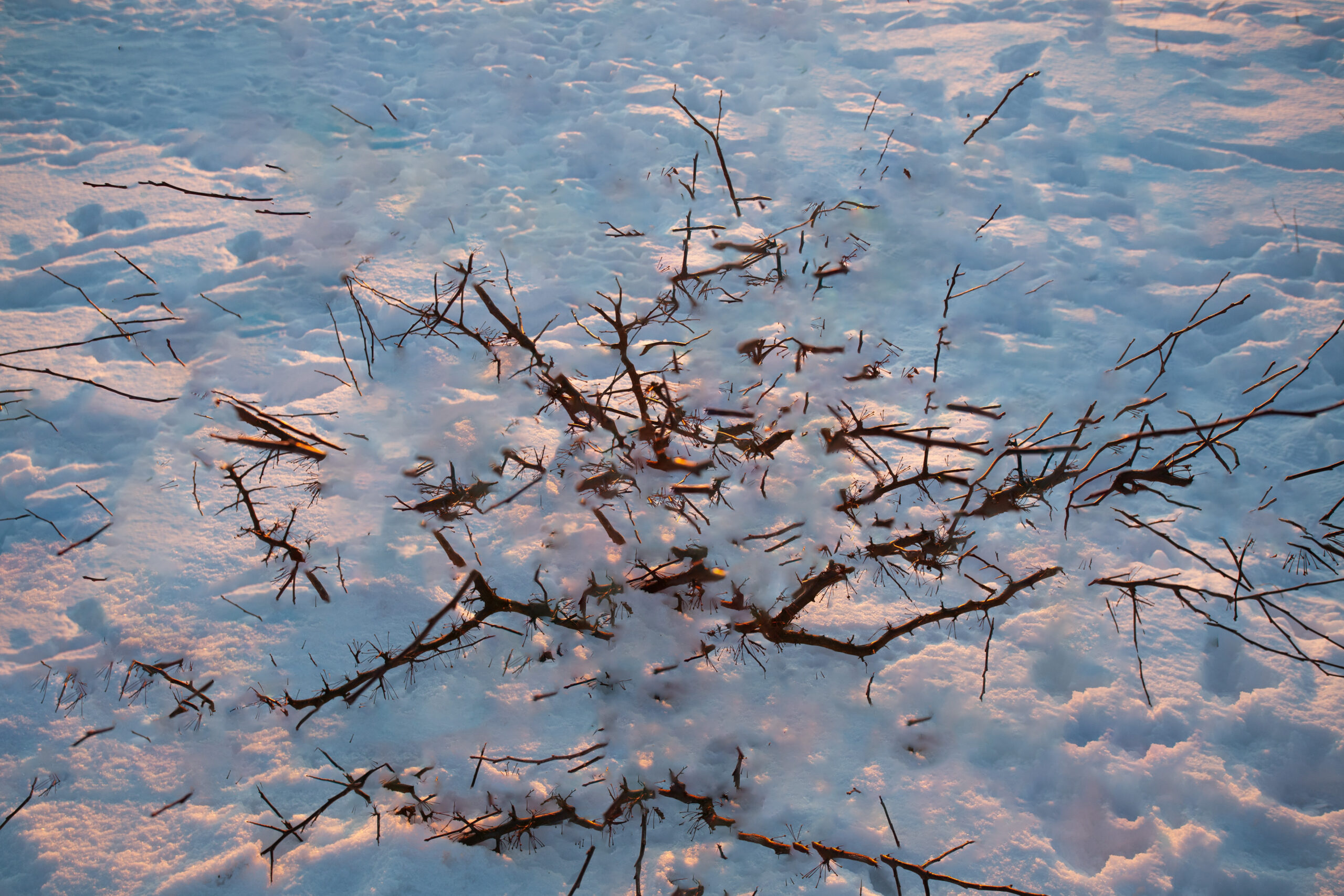 Cuts, 2022. Manipuloitu valokuva. Pigmenttivedos 120cm x 80cm
Saku Soukka laajentaa Forum Boxissa 6.3.2022 asti esillä olevan Scope-näyttelynsä Galleria A2:n Studioon. Esillä on taitelijan tekoälyn avulla vääristämiä valokuvia.
"Olen valinnut joitakin kohtia valokuvistani, jonka jälkeen käyttämäni työkalu on täyttänyt nuo valitut alueet uusilla pikseliyhdistelmillä imitoiden, tai yrittäen imitoida valokuvien "todellisuutta" – ikään kuin ehdottaen, että kuva voisi muuntua valitulla alueella tällaiseksi kameran tekemän ehdotuksen sijaan. Lopputulokset ovat usein surrealistisella tavalla vinksahtaneita tai häiriintyneitä."
Saku Soukka (s. 1982) asuu ja työskentelee Helsingissä. Hänen teokset peilaavat itseyden ja toiseuden sekä hybridin käsitteitä ja ne syntyvät yleensä valo- ja videokuvauksen sekä kirjoittamisen myötä ja toisinaan ne päätyvät myös readymadepohjaisen installoinnin muotoon. Kohtaamiset ja vuoropuhelut sisäisen ja ulkoisen, pysähtyneisyyden ja liikkeen sekä orgaanisen ja teollisen välillä ovat läsnä. Soukka on valmistunut Kuvataideakatemian Tila-ajan osastolta, ja pitänyt vajaa parikymmentä yksityisnäyttelyä Suomessa, Saksassa ja Italiassa sekä osallistunut lukuisiin ryhmänäyttelyihin.
Teoskokonaisuuden tekemistä ovat tukeneet Taiteen edistämiskeskus ja Suomen Kulttuurirahasto.
Saku Soukka's Scope exhibition, on display at Forum Box through 6 March 2022 will be extended at Galleria A2. The exhibition features photographs distorted by the artist using artificial intelligence.
"I selected a number of areas in my photos and used my tool to fill them with new pixel combinations, imitating, or attempting to imitate, the "reality" of the photos—as if suggesting that the image could be transformed in the selected area in this way instead of what is produced by the camera. The results are often slanted or distorted in a surreal way."
Saku Soukka (born 1982) lives and works in Helsinki. His works reflect notions of self-awareness and alienation, as well as hybrid concepts. His works are usually the result of still and video photography and writing; sometimes they are also readymade installations. Encounters and dialogues both internal and external, stagnation and movement, as well as between the organic and industrial are revealed. Soukka graduated from the Academy of Fine Arts in Helsinki in the subject area of time and space arts. His work has been shown at some twenty solo exhibitions in Finland, Germany and Italy and in numerous group exhibitions.
Soukka's work has been supported by the Arts Promotion Centre Finland and the Finnish Cultural Foundation
www.sakusoukka.com