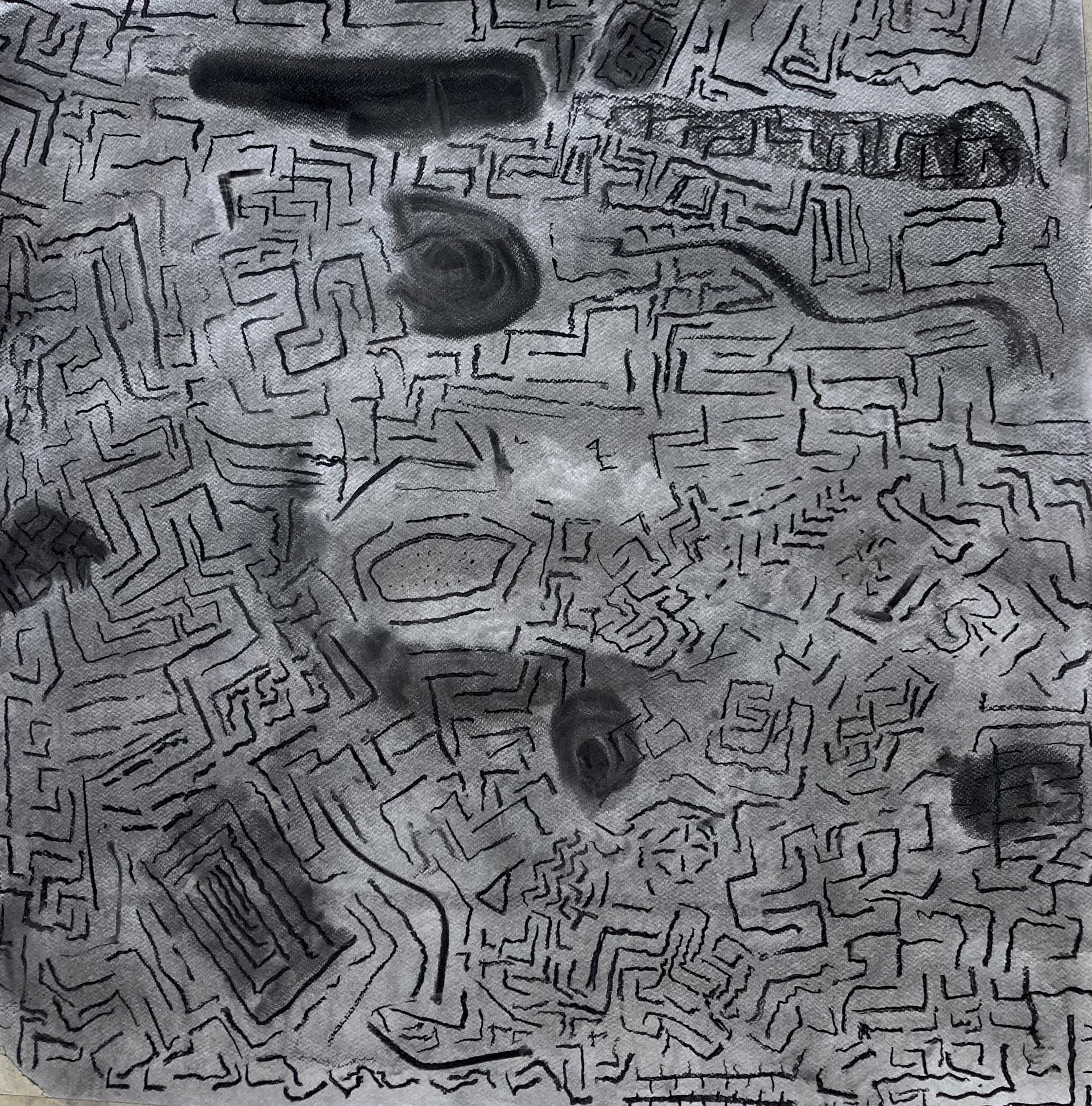 Roomalaisen kuun tarina, 2022, hiili paperille
Otto Kasvio (s. 1976 Tampere) on opiskellut kuva-artesaaniksi Kaarisillan kolmivuotisessa koulutuksessa. Ennen Kaarisillan opintoja hän oli aktiivi tekijä Oma Polun taidepajoissa Tampereella. Kaarisillan jälkeen Otto Kasvio muutti Helsinkiin ja taiteellinen toiminta siirtyi Autismisäätiön taidepajoihin Vallilassa.
Näyttelyssä olevat piirustukset ovat syntyneet Otto Kasvion kotona ja lainatyöhuoneella Roihupellossa. Työskentelystään tähän näyttelyyn Otto Kasvio kertoo seuraavaa:
Olen nauttinut taiteen tekemisestä jo pitkään, ja nautin edelleen. Terapeuttisen vapaata tai vapaan terapeuttista. Joskus saan idean jo edellisellä viikolla, joskus se kehittyy työn myötä, ja siltä väliltä. Hiili ja värikynät tuntuivat sopivan tällä kertaa ajatuksiini.

Otto Kasvio (b. 1976 in Tampere) has graduated as an artisan of fine arts in Kaarsilta's three-year training. Prior to his studies at Kaarisilta, he was an active participant in Oma Polku's art workshop in Tampere. After the Kaarisilta studies, Otto Kasvio moved to Helsinki and his artistic activities restarted at the Autism Foundation's art workshops in Vallila.
The drawings in the exhibition were created at Otto Kasvio's home and in the lend studio in Roihupelto. About his work for this exhibition, Otto Kasvio says the following:
I have enjoyed making art for a long time, and I still do. Therapeutically free or free therapy. Sometimes I get an idea the week before, sometimes it develops with work, and in between. Charcoal and crayons seemed to fit my thoughts this time.