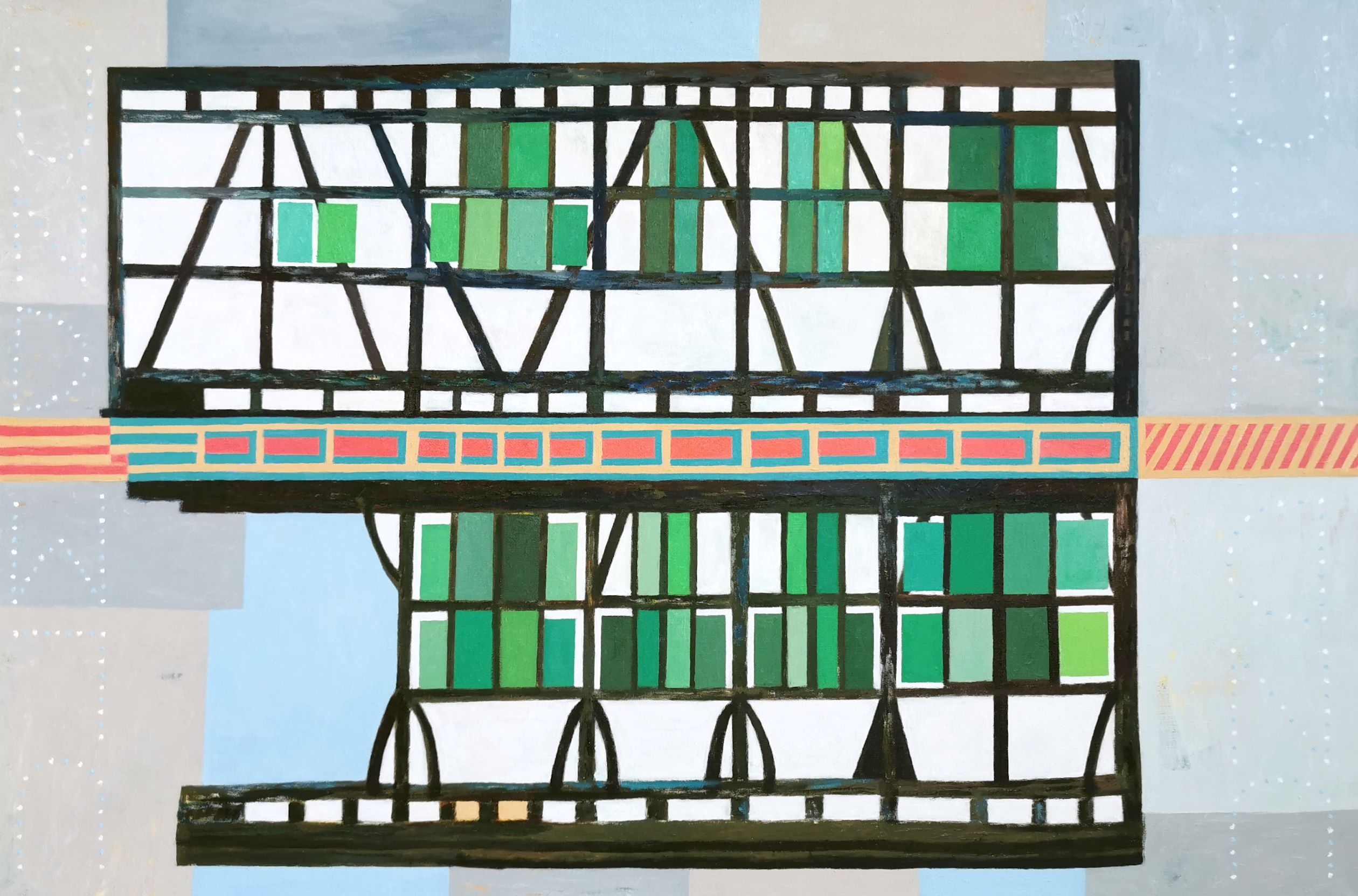 Innostuin ristikkorakenteesta maalauksen muodon lähtökohtana residenssimatkallani Saksassa vuonna 2018. Keräsin pääasiassa itäisen Saksan alueilta kuvamateriaalia nk. fachwerk-tyylisistä taloista. Rakennuksissa seinäpinta jakautuu muotoihin, joissa rakenteellinen käytäntö ja koristeellisuus kohtaavat. Palasin Saksaan vuotta myöhemmin syventääkseni suhdettani tähän aineistoon.
Perinteisen keskieurooppalaisen ristikkorakennearkkitehtuurin muodot ja tilajaot – diagonaalien ja nelikulmioiden yhdistelmät, valkoisen ja kirkasvärisen tilan eriasteiset vaihtelut – tulivat kuvallisiksi työkaluikseni. Näistä keräämistäni arkkitehtuurin yksityiskohdista käsin maalaan kuvastoa, jolla on yhtymäkohtia useisiin modernin taiteen kuvallisiin ilmaisutapoihin, mutta myös omaan itseeni leikkivänä ja hämmästelevänä ihmisenä.
Maalauksissa esiintyy epätäydellisiä, toisiaan sivuavia ja keskenään neuvottelevia systeemejä. Nämä järjestelmät luovat struktuurin, jonka havainnot ja analyysi ovat pistäneet alulle. Näyttely seuraa teemaa, jonka edeltävä näyttelyni Traveler's Structures aloitti keväällä 2021 Galleria Pogossa Helsingissä.
Näyttelyä on tukenut: Taike, Suomen Kulttuurirahasto
I became fascinated by framework buildings as an inspiration for painting during my residence in Germany in 2018. I made drawings of half-timbered houses or Fachwerkhäuser, principally in eastern Germany. The wall surfaces of the buildings are divided into forms in which structural use and decorative effect meet. I returned to Germany the following year to deepen my understanding of the material.
Traditional half-timbered architecture in central Europe exhibits forms and divisions of space—combinations of diagonals and quadrangles, different variations of white and light coloured areas—that became my pictorial tools. Based on the architectural material that I collected, my paintings display points of convergence with many forms of visual expression employed in modern art. They also reflect the aspect of my personality that is playful and full of wonder.
The paintings represent imperfect systems that touch and are in dialogue with one another. These create the structure which is the result of observation and analysis. The exhibition carries on a theme I explored in my previous show, 'Traveler's Structures', that was mounted in spring 2021 at Galleria Pogo in Helsinki.
The present exhibition is supported by Arts Promotion Centre Finland (Taike)
MiikNy – Miika Nyyssönen Artworks, Graphic design, photography, ….