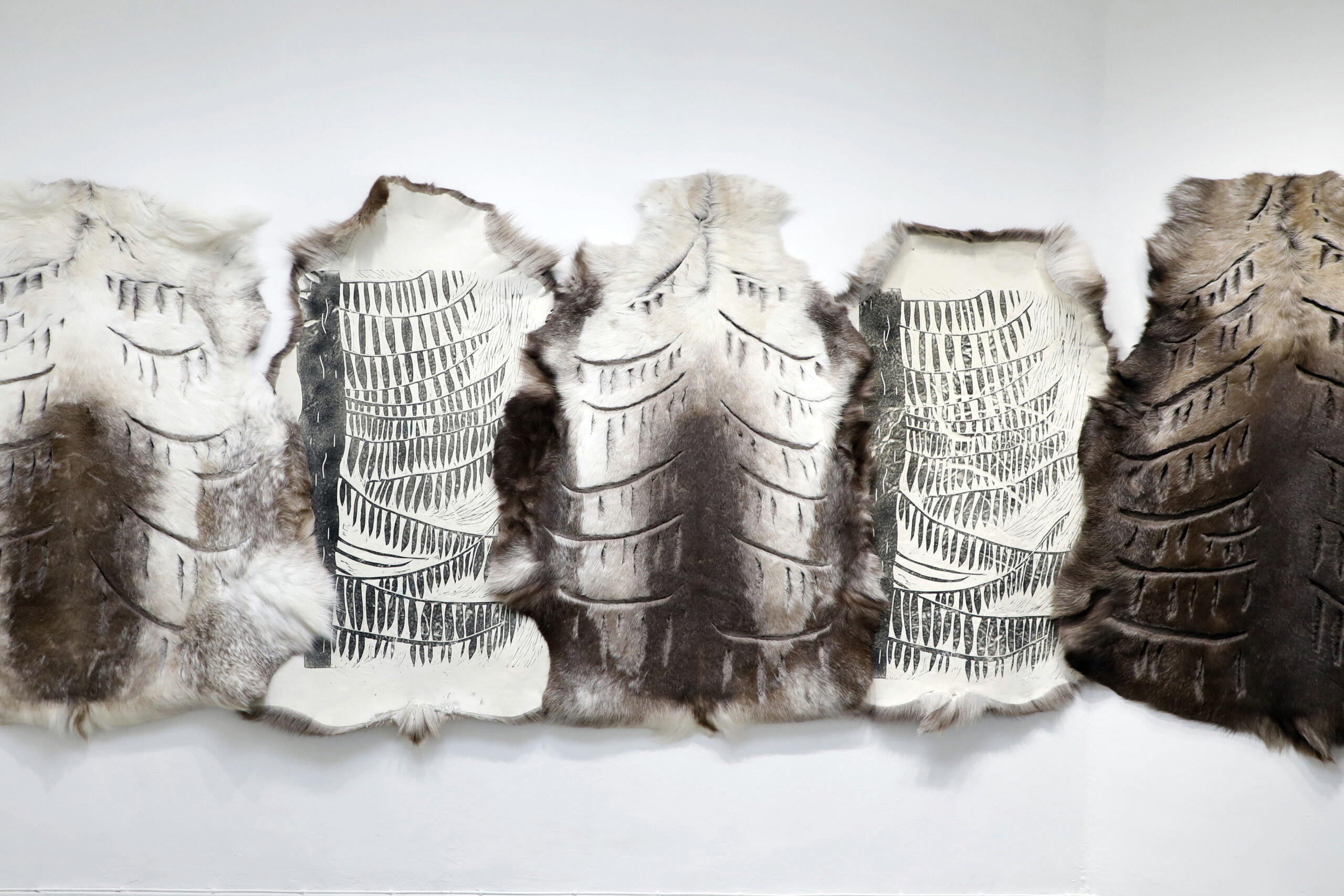 Metsä minussa, 2020.  Leikattu porontalja ja linografiikka.
Olen tehnyt esineinstallaatioita vuosia erilaisista uusiomateriaaleista, hylätyistä ja kierrätetyistä. Niiden rinnalla teen grafiikkaa kokeilevan taidegrafiikan tekniikoilla, jotka mahdollistavat suurpiirteisen ilmaisun. Se ei ole pientä ja tarkkaa. Teen isoja pintoja grafiikkaa – linoleikkausta, carborundumia, monotypiaa sekä ikiaikaista kivilitografiaa.
Olen tehnyt aikaisemmin yksityisnäyttelyn nimeltä MIELEN METSÄ – vedostettuja kertomuksia vuonna 2018. Olin jo ehtinyt unohtaa nämä kuuset, kunnes kohtasin metsäteeman uudestaan. Vedostin painoväreillä käsin poron muokatulle nahalle linoleikkausta ja jatkoin metsäteemaa leikkaamalla pihakuusemme hahmon poron taljan karvapuolelle. (1700 karvaa neliösentillä!) Näistä kuvista tein metsän – pienen metsän. Metsän, joka on minussa. Olen aikaisemminkin tutkinut poroteemaa (Rangifer Tarandus Tarandus) teoksissani ja tehnyt siitä aiheesta abstrakteja ja käsitteellisiä teoksia. On hämmästyttävää nähdä näiden kahden teeman, metsän ja poron, nyt löytävän toisensa teoksissani.
Kesällä 2020 vedostin monotypialla syväpainopaperille pihallamme kasvavan männyn rungon. Tein niistä sarjan, niin kuin pihapuumme ovat, suoria ja ryhdikkäitä.
PIENI METSÄ, jossa ovat esillä Metsä minussa, 5 osainen teos, 2020 sekä My Pine-sarjasta osat 1 ja 2, 2020.
Leila Lipiäinen on Rovaniemellä asuva ja työskentelevä kuvataiteilija, joka on Lapin yliopiston taiteiden tiedekunnan näyttelytoiminnan yliopisto-opettaja. Hän on Lapin taiteilijaseuran, Muu ry:n ja Suomen Taidegraafikkojen jäsen. Hänen teoksiaan on mm. Jenny ja Antti Wihurin rahaston kokoelmissa.
SMALL FOREST
I've been making artefact installations for years on various recycled materials, discarded and recycled. Alongside them, I make graphics with experimental graphical techniques that allow for ambiguous expression. It's not small and precise. I make graphics with large surfaces  – linocut, carborundum, monotype and ancient stone lithography.
Previously, I have held a solo exhibition called 'MIND FOREST – printed stories', in 2018. I had forgotten about those spruces until I met the forest theme again. I hand-printed lino-cutting on reindeer's modified skin with coloured ink and continued the forest theme by cutting the figure of our yard spruce on the hair side of the reindeer hide. (1,700 hairs per square centimetre!) From these pictures I made a forest – a small forest. The forest that's in me.
In the summer of 2020, I printed a monotype on gravure paper of a pine tree trunk growing in our yard. I made a series of them, as our yard trees are, straight and upright.
SMALL FOREST, featuring Forest in Me, 5-part work, 2020 and parts 1 and 2 of the My Pine series, 2020
Leila Lipiäinen is a visual artist who lives and works in Rovaniemi and is a university lecturer of exhibition activities at the Faculty of Arts in Lapland University. She is a member of the Lapland Artists' Association, Artists' Association MUU and the Association of Finnish Printmakers. Her works are included in the collection of  The Jenny and Antti Wihuri Foundation, among others.