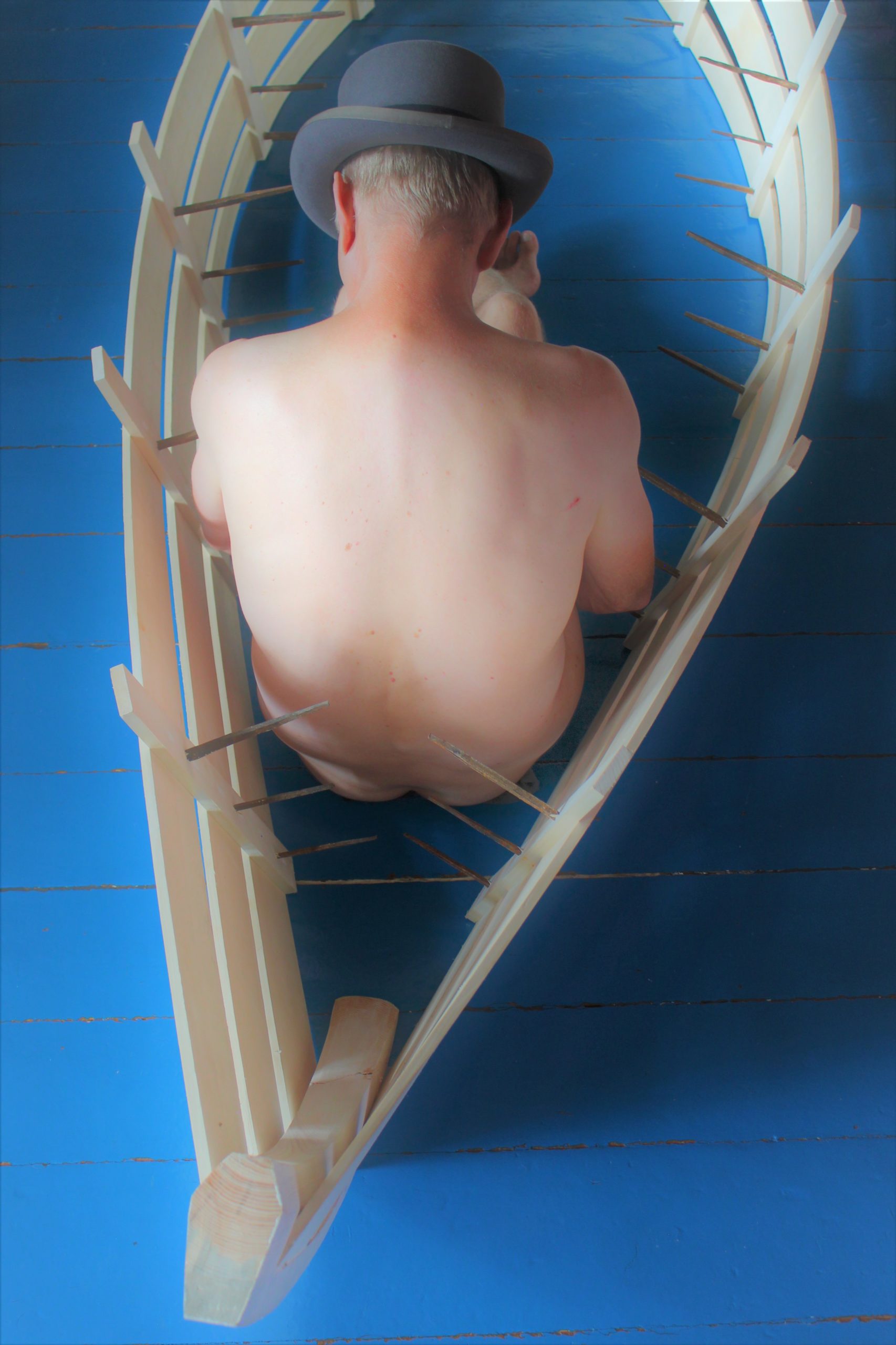 Lohduttava tila
valo, puiden seuloma
saaliini, huomasitko Isä?
Arat kömpelöt kädet
tiedon saaneena
nämä kädet, kantavat
Aina uudelleen
ajankaarelle
hahmottuu uusi muoto
Kuvanveistäjä Kari Kärkkäinen syntynyt v.1962 Sonkajärvellä. Taiteen tekemisen innostus
leimahti Jurvan veistokurssilta löytyneen puuntyöstötekniikan myötä. Sotkettuaan
sittemmin kätensä saveen Kustavin Savipajalla, hän hakeutui sieltä Taideteollisen
korkeakoulun keramiikkalinjalle. Kolmen vuoden opiskelun jälkeen veri veti vapaaksi
taiteilijaksi. Puu ja puusta veistäminen osoittautui lopulta omimmaksi tavaksi ilmaista
itseään ja taiteelisia päämääriään. Materiaalin luonnollisten ominaisuuksien kokeilu ja
oppiminen on hänen ammatillinen intohimonsa. Se on myös olennainen osa hänen
työskentelytavassaan "piirtää" kolmiulotteisesti puulla.
Kärkkäisen aktiivinen näyttelytoiminta alkoi 1996, hän on kuvaveistäjäliiton jäsen, asuu ja
työskentelee Juvalla.
Taiteilijan työskentelyä tukeneet, Suomen kulttuurirahasto ja Taiteen edistämiskeskus
Kari Kärkkäinen: Fortune Seeking
Comforting space
Light, tree silhouettes
My prey, did you notice,
Father?
Sensitive clumsy hands
Knowledge of these
Carries on
Over and over again
Through the arc of time
A new shape forms

The sculptor Kari Kärkkäinen was born 1962 in Sonkajärvi. Kärkkäinen's artistic enthusiasm for woodwork came from his technique he discovered in Jurva's sculpture course. He also did ceramics and wasn't afraid to get his hands dirty within the clay medium at Kustavin Savipaja, and he also did ceramics at the University for Art and Design in Helsinki. After 3 studious years of blood, sweat and tears he became a free artist. Wood carving proved to be the strongest and most characteristic of way expressing himself and achieving his visions.

Kärkkäinen make a passion of experimenting and learning the natural qualities of his material as part of his profession. Another integral part of his style is to draw three dimensionally on the wood. Kärkkäinen's active exhibition activities began in 1996, he is a member of The Association of Finnish Sculptors, and he lives and works in Juva.

The supporters of this artist's work are the Finnish Cultural Foundation and the Arts Promotion
Centre.