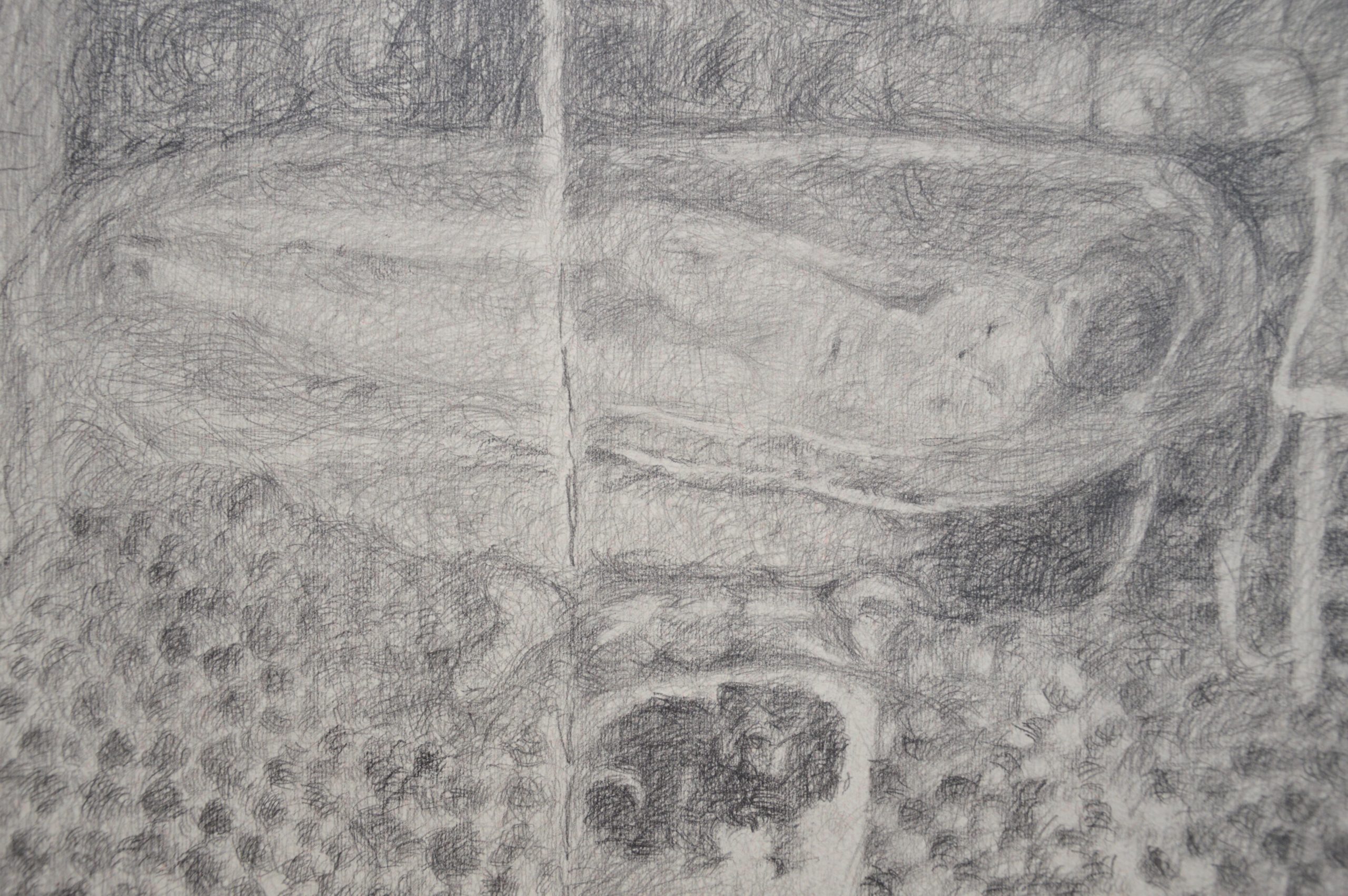 Kylpijä ammeessa ja pieni koira, 2020-2021 (Detail)
Pari vuotta sitten kävin isossa Bonnard-näyttelyssä Tatessa ja hankin hyvän taidekirjan. Ihailin maalauksia, niiden kuvaamaa suloista elämää, missä kylpijät pesevät, huoltavat ja peilaavat vartaloaan kauniissa valaistuksissa, ruusutapettisissa huoneissa, kukkakimppujen katveessa. Mietin miten voisin onkia omiin töihini jotain vaikutusta tuollaisesta kauneudesta.
Ajatus jäi, kunnes sain ankarat vaihdevuosioireet syöpähoitojen seurauksena. Silloin tuli mieleeni, kärsikö Bonnardin vaimo Marthe ehkä kuumista aalloista, kun kylpeminen oli hänellä ajanvietteenä?
Aloin jäljentää lyijykynällä värikkäitä maalauksia, mikä on sekä mielenkiintoista ja toivotonta. Maalauksissa on havainnoitavaa loputtomiin, ja mitä kauemmin niihin perehtyy, sitä enemmän asioita niistä paljastuu.
Homage to Bonnard. Drawings in pencil (Studio)
A few years back I visited a major Bonnard exhibition at the Tate and bought a good art book. I was really taken by the paintings and the sweetness of life that they portray: bathers wash, pamper and regard their bodies in mirrors in rooms decorated with rose-patterned wallpaper and bathed in beautiful light with bouquets in the shadows. I thought about how I could imbue my own work with something of this beauty.
The thought stayed with me until I began to suffer from acute menopausal symptoms brought on by cancer therapy. I wondered whether Bonnard's wife Marthe may perhaps have suffered from hot flashes since bathing was something she indulged in.
I began to reproduce coloured paintings in lead pencil, an activity that is both interesting and hopeless. In the paintings one can sense infinity, and the longer one contemplates them, the more they reveal.