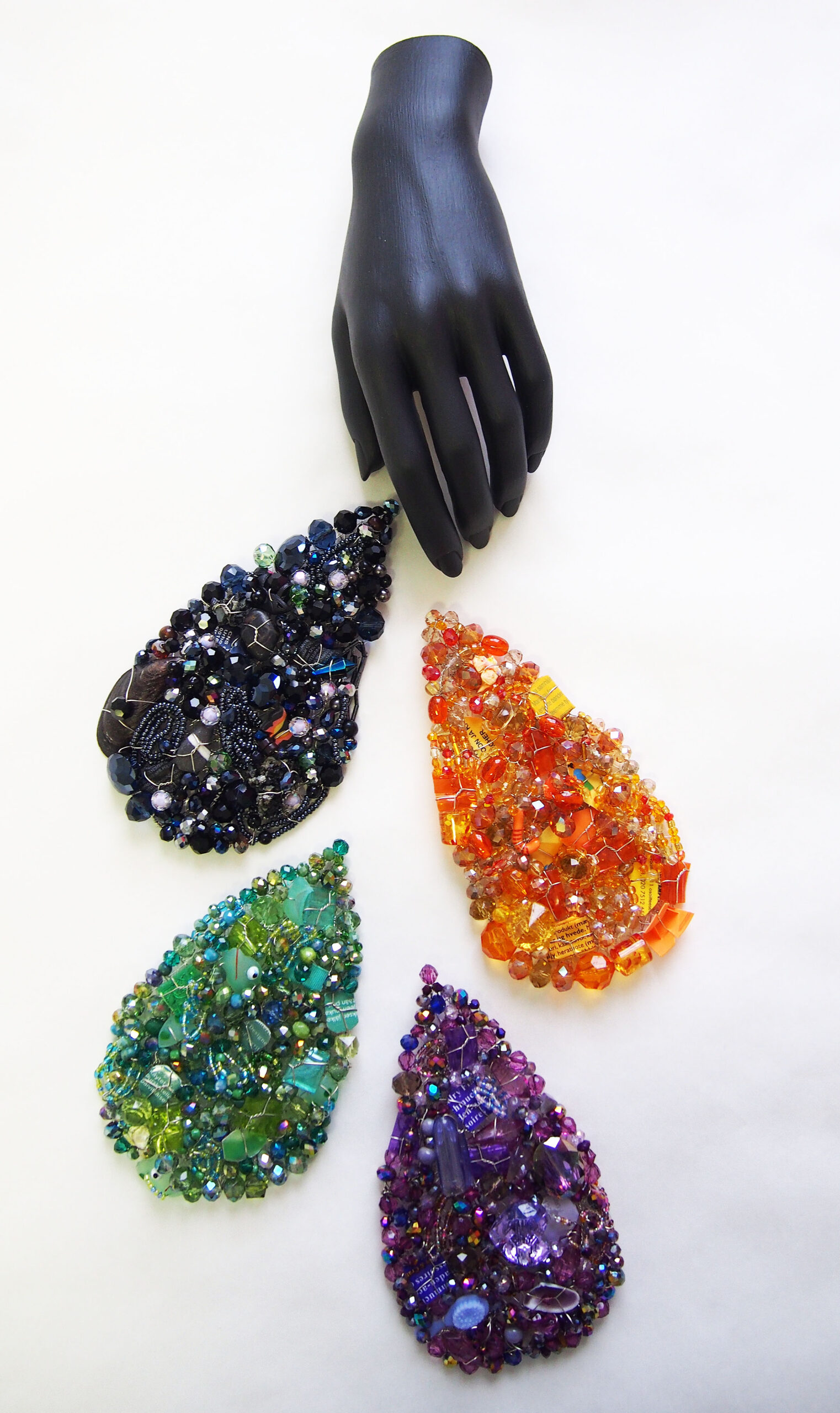 Muisto, 2020, sekatekniikka 55 x 30 x 7cm
"Kaunis pinta kätkee alleen kauniin syvyyden."
Tämä ranskalaisen filosofin, Simone Weilin ajatus taiteesta ja kauneudesta kiehtoo minua. Katson maailmaa silmin, jotka kaiken aikaa etsivät ja löytävät, ikään kuin tallentavat muistin kuva-arkistoihin kaikesta näkemästäni ne merkitykselliset ja metaforiset kuvat, jotka muodostuvat teosteni lähtökohdiksi. Meluisan arkihavainnon alla on merkityksiä pulppuavia, hiljaisia äänenpainoja. On hylättyjä esineitä, joihin aika on piirtänyt jälkensä. On poisheitettyjä, rikkoutuneita materiaaleja, jotka voisivat vielä loistaa ja vangita katsojan näkemään pintansa alla piilevän kauneuden ja muistuttaa luonnon ja ihmisen herkkyydestä, yhteydestä sekä mahdollisuuksista vaalia tätä yhteyttä.
Pinnan alla väreilee myös huoli planeettamme tilasta. Ihmisen toiminnan negatiiviset vaikutukset ympäristöön luovat usein dystooppista tarinaa tulevaisuudesta. Tämän rinnalle haluaisin teoksillani nostaa kertomuksen ihmisen inhimillisestä halusta luoda ympärilleen kauneutta ja etsiä kaikesta huolimatta toivon näköaloja.
Johanna Virtanen on Helsingissä asuva ja työskentelevä kuvataiteilija. Hän on pitänyt useita yksityisnäyttelyitä, sekä osallistunut lukuisiin yhteisnäyttelyihin niin kotimaassa kuin ulkomaillakin. Materiaalit ja niihin kietoutuvat visuaaliset ja sisällölliset viestit ovat hänen kolmiulotteisten teostensa keskiössä.
Beneath the Surface
"The beautiful surface hides a beautiful depth"
This idea of art and beauty expressed by French philosopher Simone Weil fascinates me. I look at the world with eyes that are constantly searching and finding, as if storing in the image archive of memory everything I see: significant and metaphorical images that are the starting point of my work. Beneath the din of everyday observation, quiet strains of meaning well forth. There are abandoned objects on which time has left its mark. There are discarded, broken materials that can still shine and rivet the viewer's sight on the beauty hiding beneath their surface and recall the relationship of nature and man, their sensitivity, as well as the possibilities for fostering this relationship.
Beneath the surface, there also ripples concern about the state of our planet. The negative effects of human activity on the environment often create a dystopian story about the future. In addition, I would like to use my works to address the human desire to create beauty and, in spite of everything, to seek horizons of hope.
Johanna Virtanen is a visual artist who lives and works in Helsinki. She has held several solo exhibitions and participated in numerous joint exhibitions both in Finland and abroad. The materials and their intertwined visual and substantive messages are at the heart of her three- dimensional works.