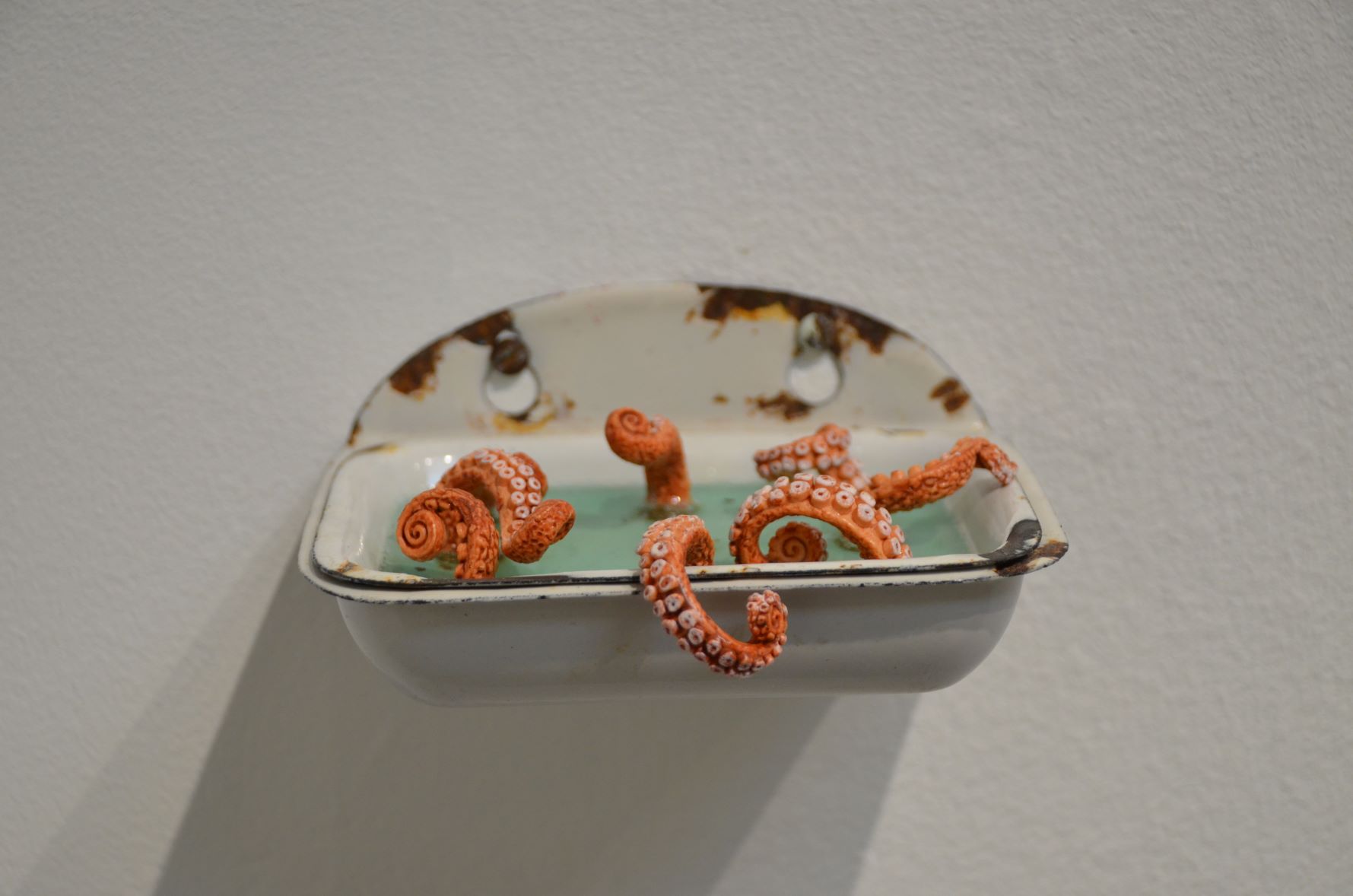 What lies Beneath, 2016, objects, 8 x 4 x 6cm
Olen itseoppinut taiteilija ja syntynyt Irlannissa. Luova työskentelyni on monialaista, mutta olen keskittynyt pääosin maalaukseen, veistoon ja kirjoittamiseen. Työtapani on minimalistista ja mottoni on "vähemmän on enemmän". Hengellisyys on kiinnostanut minua useiden vuosien ajan. Nuorinta minääni muokkasi kristinuskon jäykkyys ja erityisesti katolinen kirkko, jonka kuitenkin hylkäsin heti tilaisuuden tullen päättämällä ajatella vain itse. Kohtasin buddhalaisuuden lähes neljäkymmentä vuotta sitten ja jäin tutkimaan asiaa siitä lähtien. Yritän noudattaa joitain sen ohjeita ja harjoittaa meditaatiota joka päivä. Pyrin luomaan teoksiini hiljaisuutta lisäämällä niihin vain pienieleistä särmikkyyttä. Uskon, että nämä aiheet seuraavat teosteni eri tasoja punaisena lankana, olipa kyse sitten maalauksesta, veistoksesta, rakenteesta, esinekoosteesta tai runoudesta, kuten;
Silent
Still
Chime
Awaits
Wind
Teoksiani voidaan käyttää keskittymisapuna meditaatioon ja mietiskelyyn, mutta ei yksinomaan.
Joe McGill (s. 1955 Dublin, Irlanti) on Helsingissä asuva ja työskentelevä kuvataiteilija
______
I am a self taught artist, born in Ireland. I create through multiple disciplines but mainly painting, sculpture and the written word. I work in a minimal fashion, taking as gospel the maxim 'less is more'. For many years I have been interested in things of a spiritual nature. My youngest self was moulded by the rigidity of Christianity, in particular the Catholic Church which however I discarded at the first opportunity in favour of simply thinking for myself. Buddhism came to me almost forty years ago, and I have made of it a study ever since. I try to keep some precepts and I practice meditation every day. I attempt to create a silence in my work with just a little edginess to it's character. This I believe is the common thread that runs through the different facets of my output whether it be painting, sculpture, constructions, art trouvé or written poetry for example;
Silent
Still
Chime
Awaits
Wind
My work therefore may be used as a focus aid for meditation and contemplation, but not exclusively so. 
Joe MCGill (b. 1955 Dublin, Ireland) is a visual artist living and working in Helsinki, Finland.