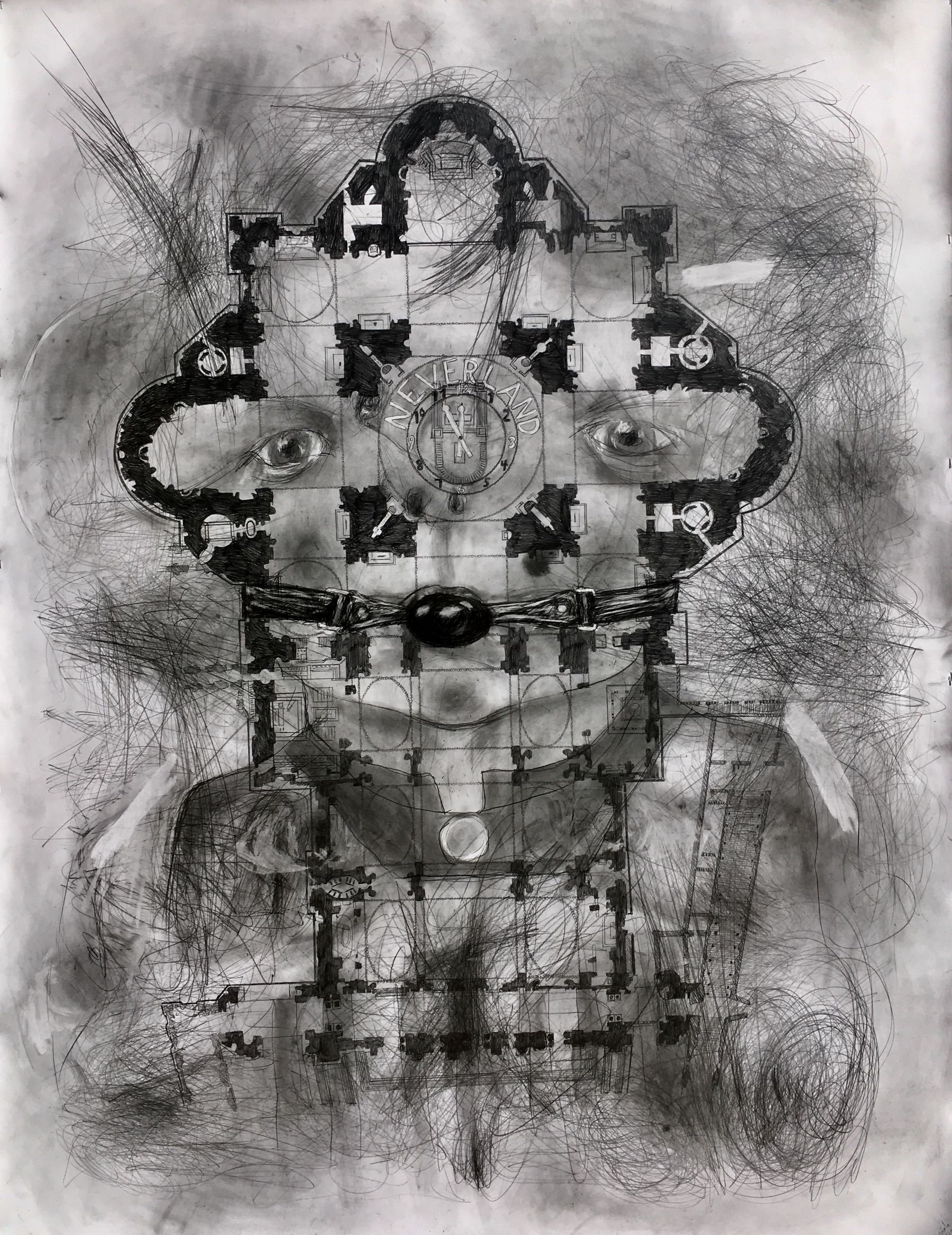 Neverland, 2019, Pencil and graphite dust on paper, 115 x 150 cm
Yksityisnäyttelyni "Päästä Pahasta" Galleria A2:ssa Helsingissä on päätepiste, tai välitilipäätös, vuonna 2019 alkaneelle piirustusprojektilleni, jossa olen käsitellyt raskasta aihetta: ihmisen pahuutta. Kollektiiviset traumat saavat muodon suurikokoisissa piirustuksissani. Näyttelyn teoksia on ollut aiemmin esillä jo useissa yhteisnäyttelyissä ja viimeksi yksityisnäyttelyssä Galerie Toolboxissa Berliinissä. Mutta nyt kaikki piirustussarjojen teokset ovat ensimmäistä kertaa esillä yhtenä raastavana kokonaisuutena. Tiedän käsitteleväni vaikeaa ja surullisen ajankohtaista aihetta, jonka haluaisin mieluummin unohtaa kuin kohdata. Tässä yhteydessä varoitan näyttelyn sisällöstä, joka voi aiheuttaa vastaanottajille ahdistusta.
Miksi kuvaan pahuutta taiteessani? Kuvataiteilijana ja etiikkaan erikoistuneena teologina olen ajautunut näiden eksistentialististen kysymysten pariin. Mielestäni ihmisen on hyvä tutkia omia pimeitä puoliaan. Sopivissa olosuhteissa moni ihan tavallinen ihminen on päätynyt kylmäksi väkivallan käyttäjäksi. Sota on tästä hyvä esimerkki. Hyvin nopeasti viholliskuvat tukahduttavat lähimmäisen näkemisen ja molemmat osapuolet syyllistyvät sietämättömiin tekoihin. Tutkiessani pahuutta, joudun myös kysymään: Voisinko se olla minä?
Ihmisyyteen kuuluu syvästi myös toive oikeudenmukaisuudesta. Piirtäessäni selittämättömän pahuuden täyttämää tapahtumasarjaa tulen sen äärelle, että oikeudenmukaisuus ei toteudu koskaan monien uhrien kohdalla. Sen tosiasian hyväksyminen tuntuu lähes mahdottomalta. Piirustusteni aiheet eivät jätä mieltäni rauhaan. Ehkä juuri siksi piirrän pahuutta. Ehkä piirustus on kuin rukous: "Päästä pahasta".
Näyttely koostuu kahdesta piirustussarjasta: "Dies Irae – Vihan päivä" ja "Music & Violence". "Dies Irae – Vihan päivä".
"Dies Irae – Vihan päivä"
Dies irae, suomeksi Vihan päivä, on sielunmessun eli Requimin sequentia -jakson latinankielinen nimi. Tekstin kirjoittajaksi on arveltu fransiskaani veli Tuomas Celanolaista (1200-1265). Tekstin alkupuoli kertoo, kuinka kaikki ihmisen pahat teot lopulta paljastuvat ja "mikään ei jää kostamatta". Toinen puoli runoelmasta muuttaa näkökulman kostosta kirjoittajan omaan syyllisyyteen ja rukoukseen: "Huokaan kuin syyllinen: kasvot punaisena häpeästä: Säästä katuvaa, Jumala." Olen tehnyt eräänlaisia dokumentaarisia "true crime" piirustuksia, joissa kuvaan inhimillisiä tragedioita, lasten hyväksikäyttöä, terrorismia ja väkivallan rakenteita. Sarjan teosten aiheita ovat mm. Koskelan teinisurma, 9/11, Utøyan tapahtumat norjassa, Abu Ghraibin kidutukset Irakissa, ristiinnaulitseminen ja Berliinin rekkaisku. Lyijykynäpiirustukset ovat kooltaan115 x 150 cm.
Musiikki & väkivalta
Musiikkia pidän inhimillisen kulttuurin yhtenä huipentumana, ehkä kaikista taidemuodoista voimakkaimmin tunteita koskettavana. Musiikki tuottaa ihmisille iloa, lohduttaa, saa ihmiset tanssimaan ja nauramaan. Mitä olisi maailma ilman musiikkia? Kuitenkin ihmisen pimeä puoli on valjastanut jopa musiikin väkivallan välineeksi. Sarjan sisällöllisenä punaisena lankana ovat tapahtumat, joissa musiikki on liittynyt tavalla tai toisella väkivaltaan. Lyijykynäpiirustukset ovat kooltaan 37,5 x 55,5 cm.
Helsingissä 21.12. 2022, Ilkka Sariola
DELIVER US FROM EVIL
My one-man exhibition 'Deliver us from Evil' at Galleria A2 in Helsinki is both a final point and interim stock-taking of the drawing project that I started in 2019, in which I addressed a difficult subject: man's evil. Collective traumas are given form in my large-format drawings. The works shown at this exhibition have been shown previously at a number of individual exhibits, most recently at  Galerie Toolbox in Berlin. Now for the first time all of the drawings are on view as a distressing whole. I appreciate that I am dealing with a contemporary theme that is difficult and upsetting; indeed one that I would prefer to forget. In this connection I add a note of caution that the exhibition's content may prove disturbing to some.
Why do I represent evil in my art? As a painter and theologian, whose special focus is ethics, I came to explore existential questions. In consider that mankind would do well to examine its own dark side. Under the appropriate conditions many entirely ordinary people have ended up coldly employing violence. War is a good example of this. The image of the enemy very quickly displaces consideration of the other as a fellow human being, with both parties to a conflict accusing each other of inexcusable misdeeds. In examining evil; I was also led to ask, 'could that be me?'
The hope for justice is deeply rooted in humanity. Drawing the series of events filled with unfathomable evil, led me to the conclusion that many victims well never see justice. Accepting this fact seems almost unbearable. The subjects of my drawings leave me no peace. Perhaps this is precisely why I draw evil. Perhaps drawing is akin to prayer: 'deliver us from evil'.
The exhibition comprises two series of drawings: Dies Irae—Day of Wrath and Music & Violence.
Dies Irae—Day of Wrath
Dies Irae, or 'Day of Wrath' in English, is the Latin name of the sequence for the requiem mass. The author is believed to have been the Franciscan monk Thomas of Celanola (1200–65). The first part of the text tells how all of mankind's evil deeds will be revealed in the end and 'nothing unavenged remaineth'. In the second half of the poem the perspective changes from vengeance to the author's own sinfulness and the prayer, 'guilty, now I pour my moaning, all my shame with anguish owning, spare, O God, Thy suppliant groaning!' I have made a number of documentary 'true crime' drawings in which I depict human tragedies, the exploitation of children, terrorism, and the structures of violence. The subjects of the series include the teen murder in Koskela, Finland, 9/11, the massacre in Utøya, Norway, the torture of prisoners at Abu Ghraib in Iraq, the Crucifixion, and the truck attack on the Berlin Christmas market. The pencil drawings in this series measure 115 by 150 cm.
Music & Violence
Music is a peak of human civilization. Of all art forms music is perhaps the one that inspires emotions most powerfully. Music brings people joy and consolation; it makes them dance and smile. What would the world be without music? Yet, man's evil side has appropriated even music and turned it into an instrument of violence. The thread running through the works are events in which music has been connected in one way or another to violence. The drawings in pencil in this series measure 37.5 by 55.5 cm.
Helsinki 21.12. 2022, Ilkka Sariola