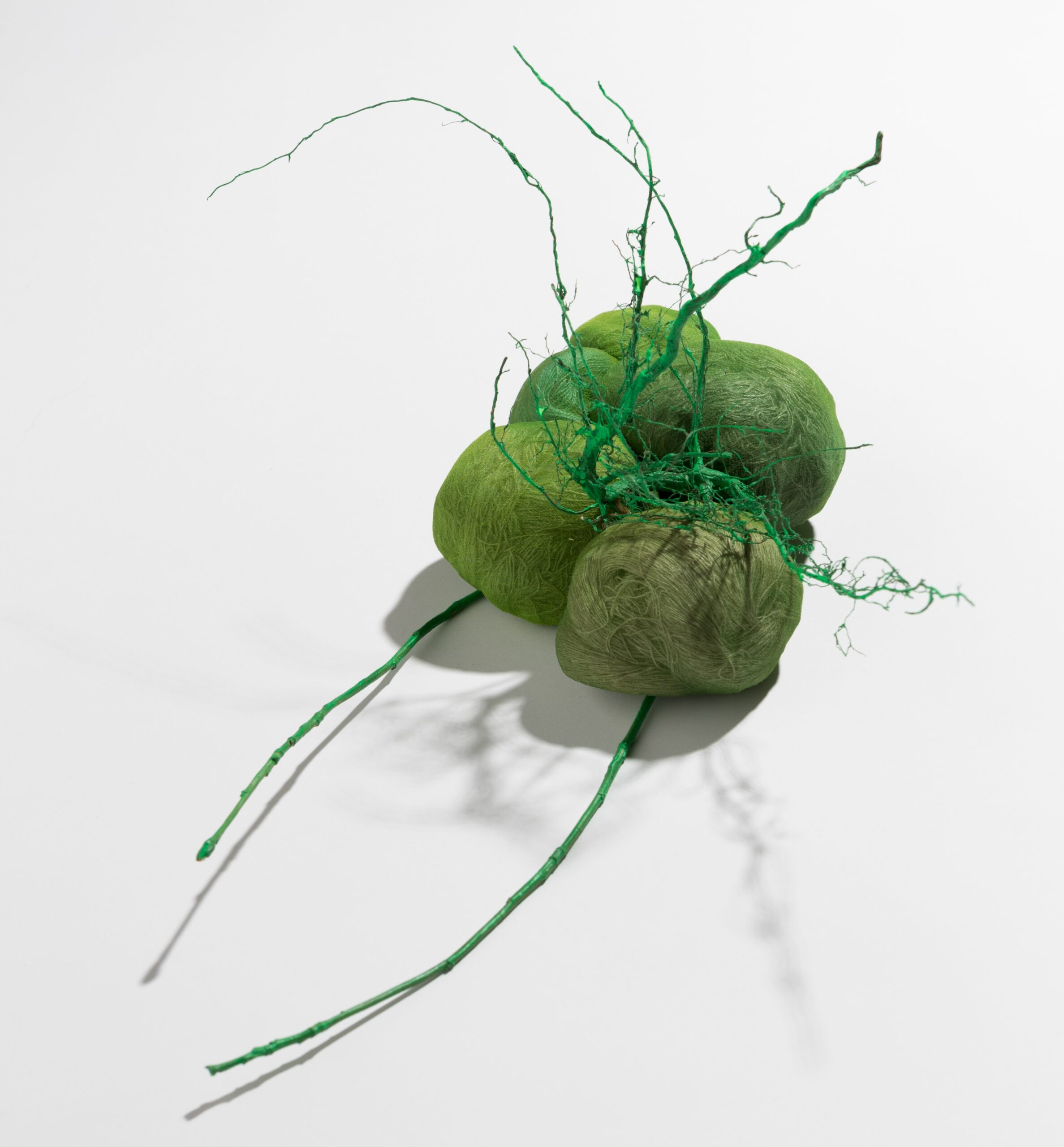 Metsästä, 2022. Pellavalanka, värjätty silkkiharso, juuret.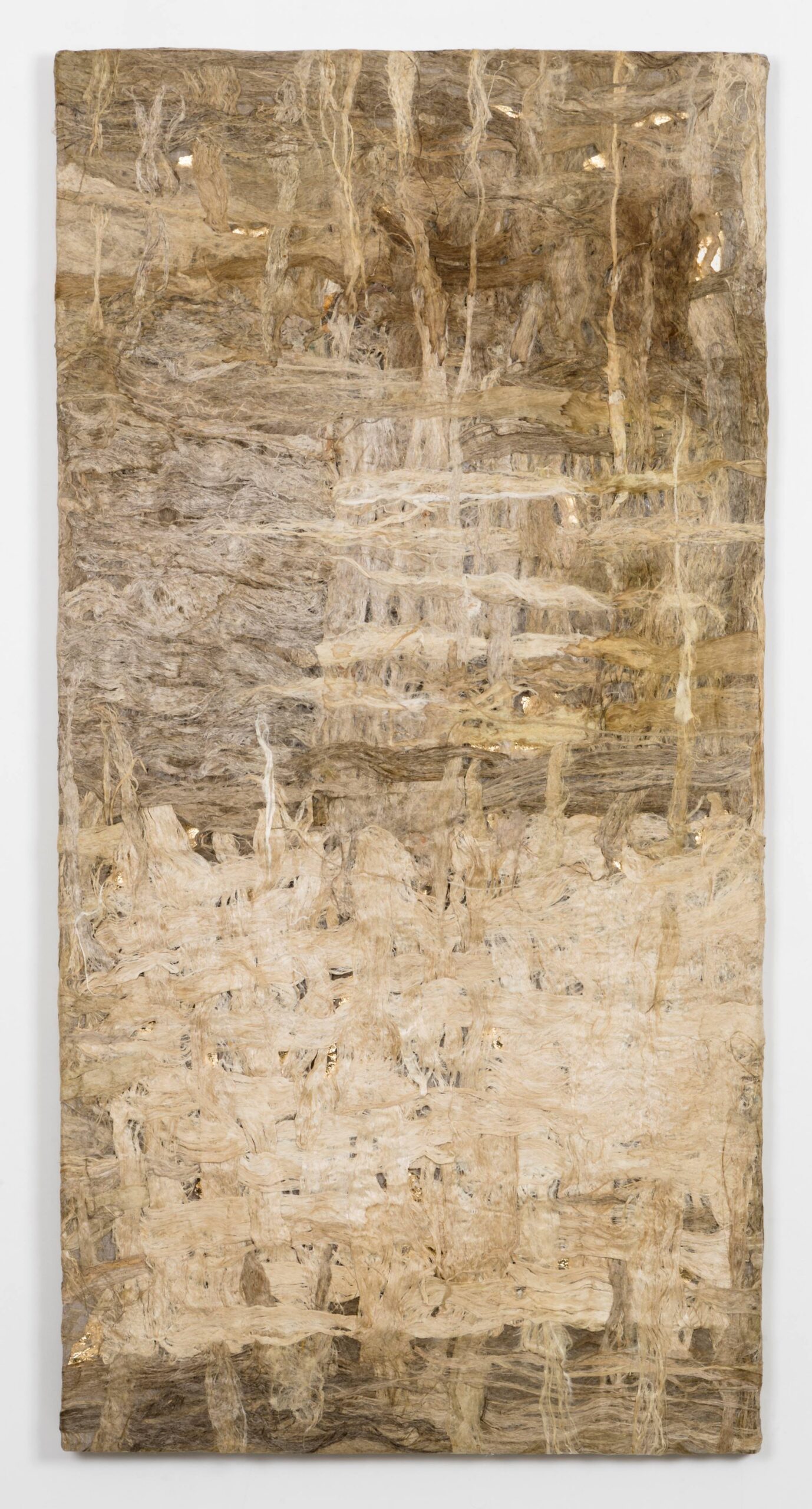 Kun kevät alkoi tulla, 2022. Pellavakuitu, lyöntimetalli, 170 x 75 cm.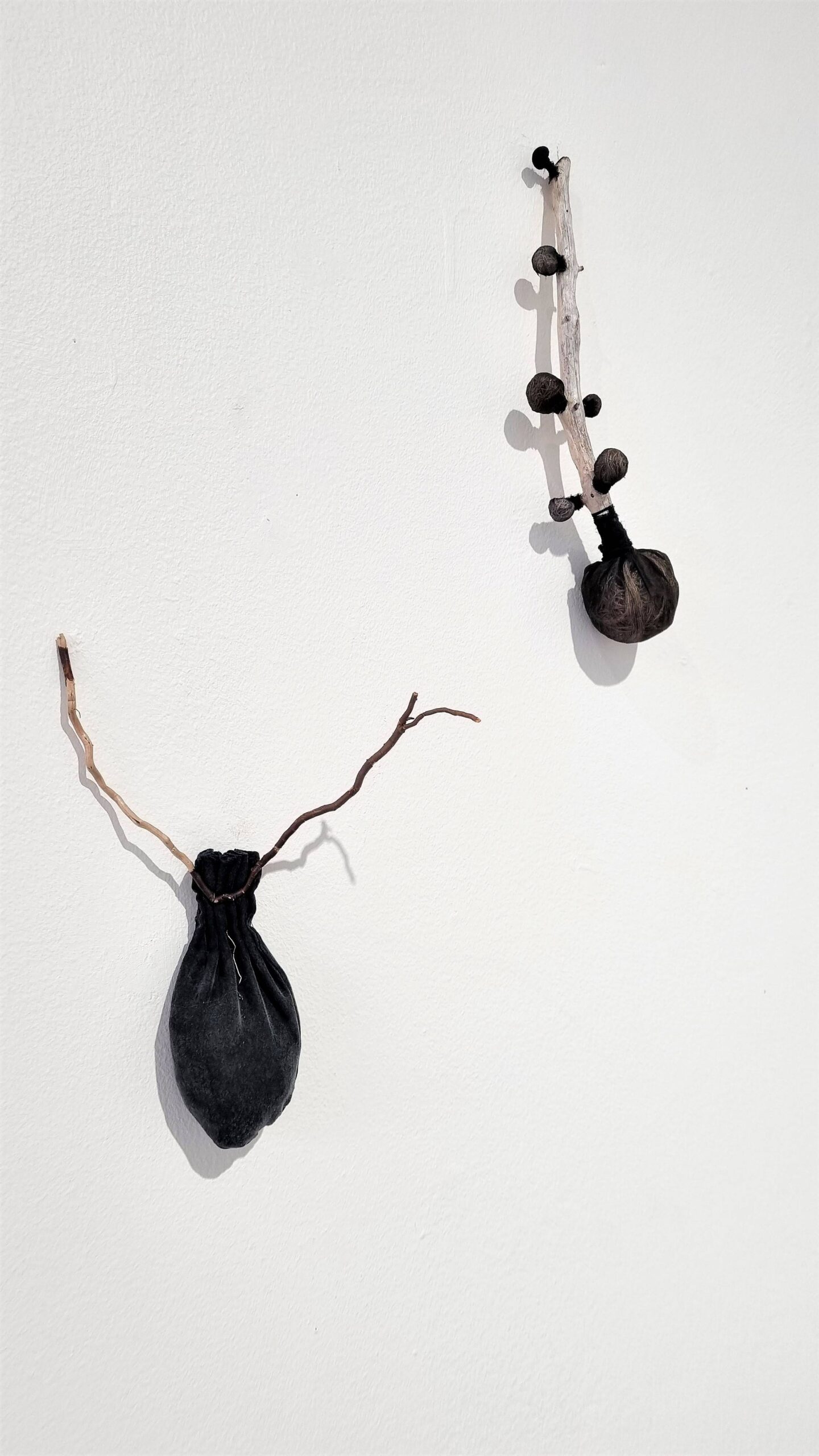 Pimeässä I, 2023. Silkki, juuri, hiekka. 
Hämärtyvää II, 2023. Oksa pellavalanka, silkki.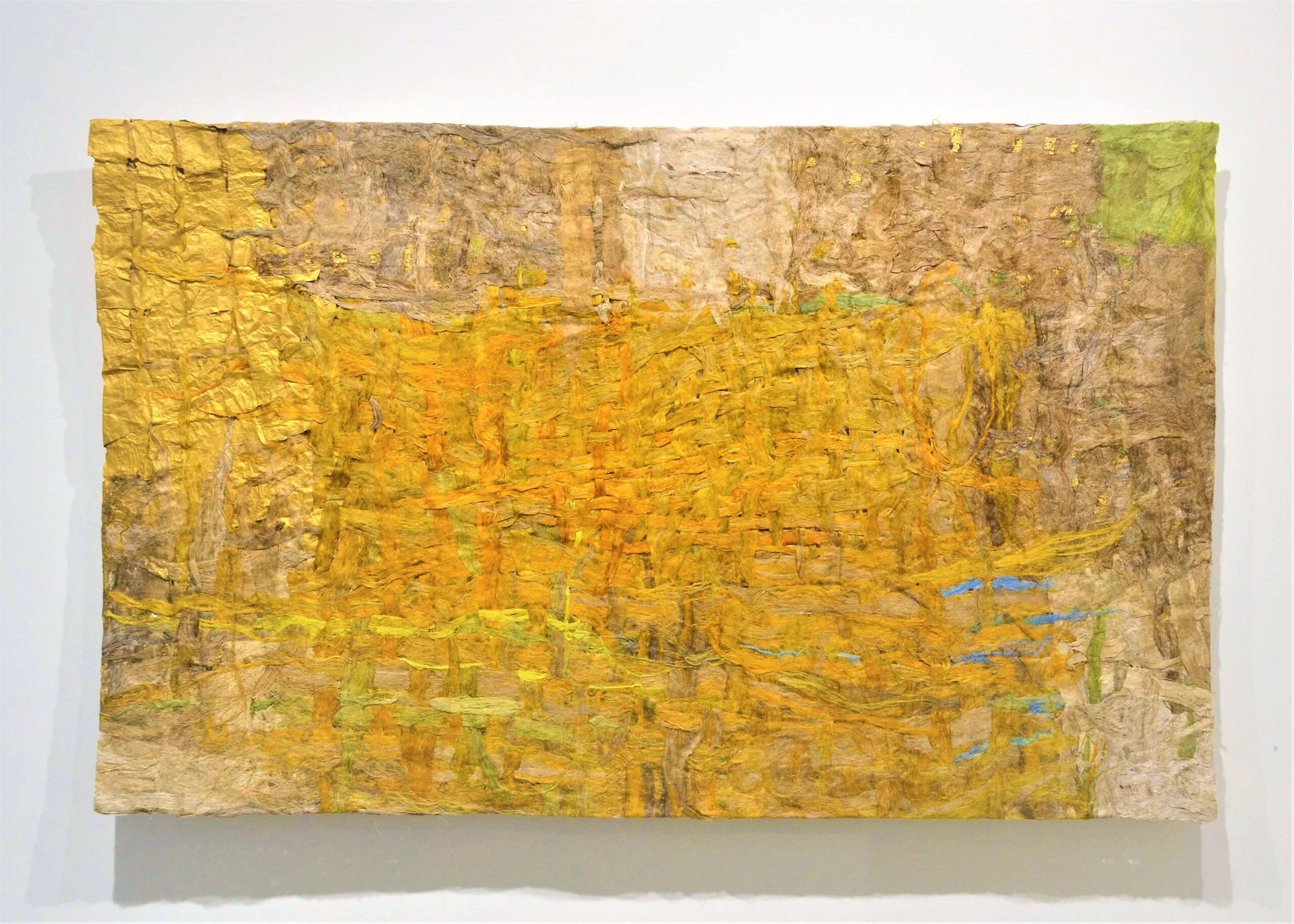 Auringona alla, 2021-2023. Pellavakuitu, maalattu paperi, lyöntimetalli, 220 x 130 cm.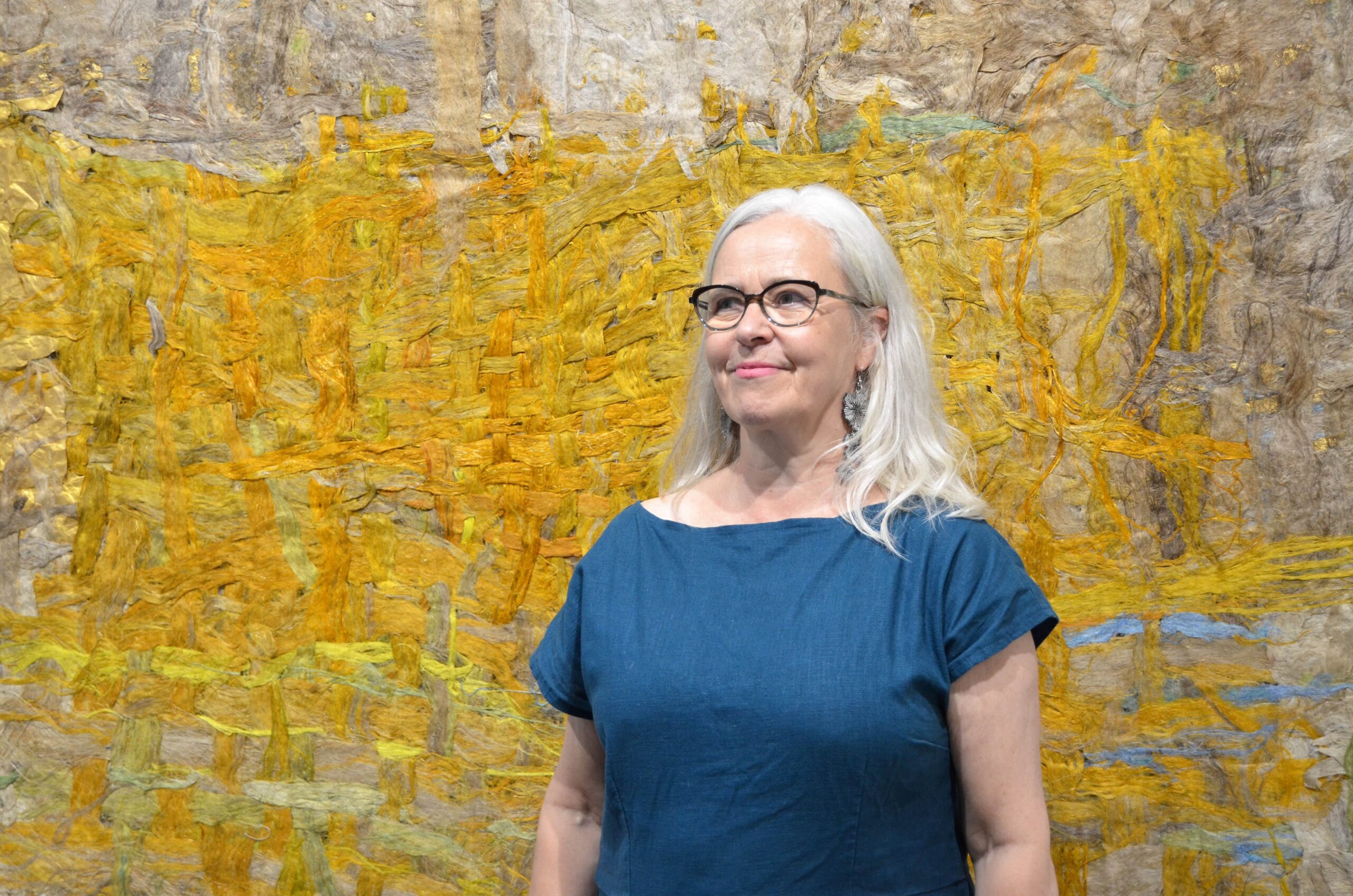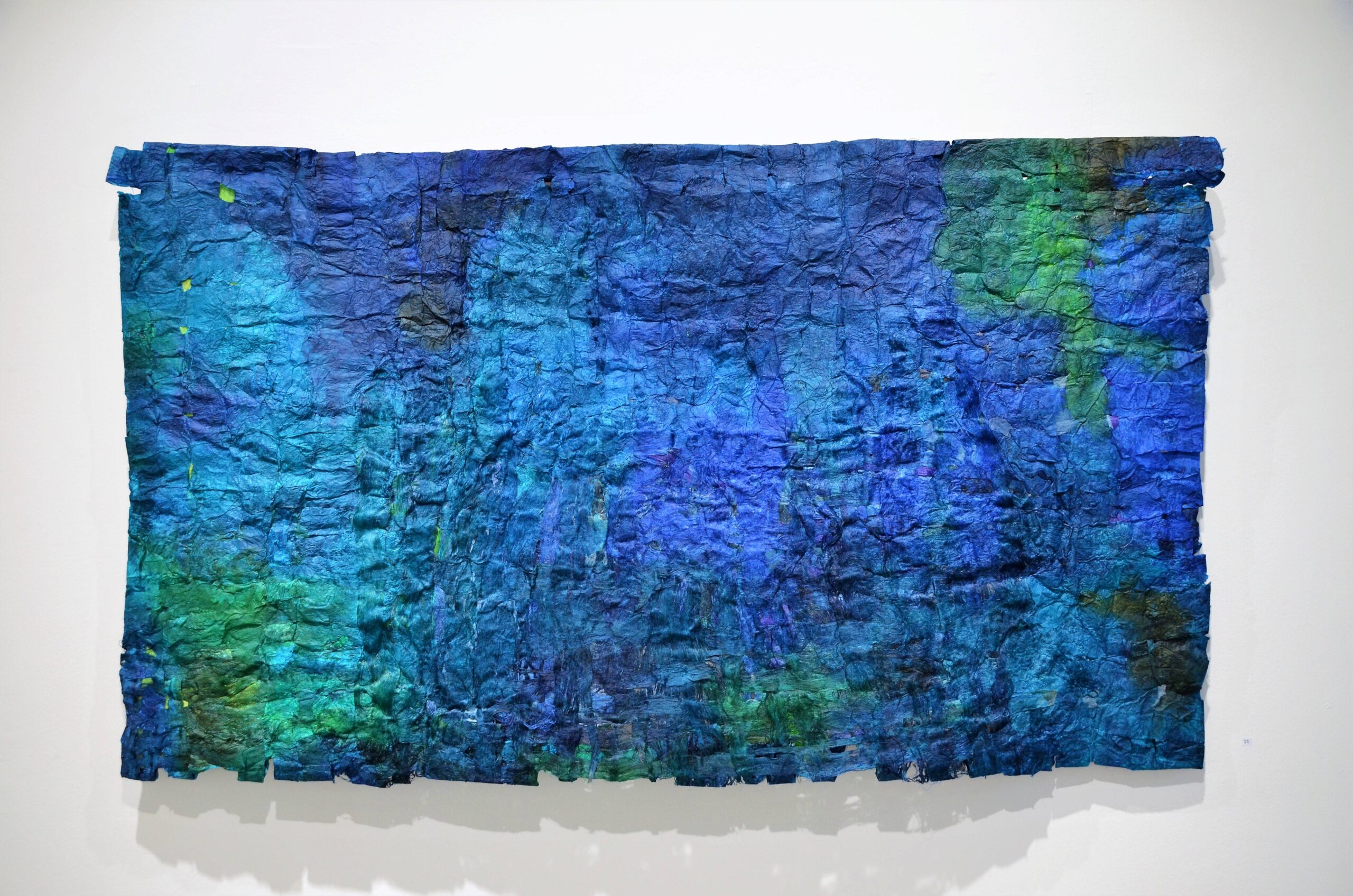 Rantavedet, 2023. Värjätty ja punottu paperi ja pellavalanka, 190 x 110 cm.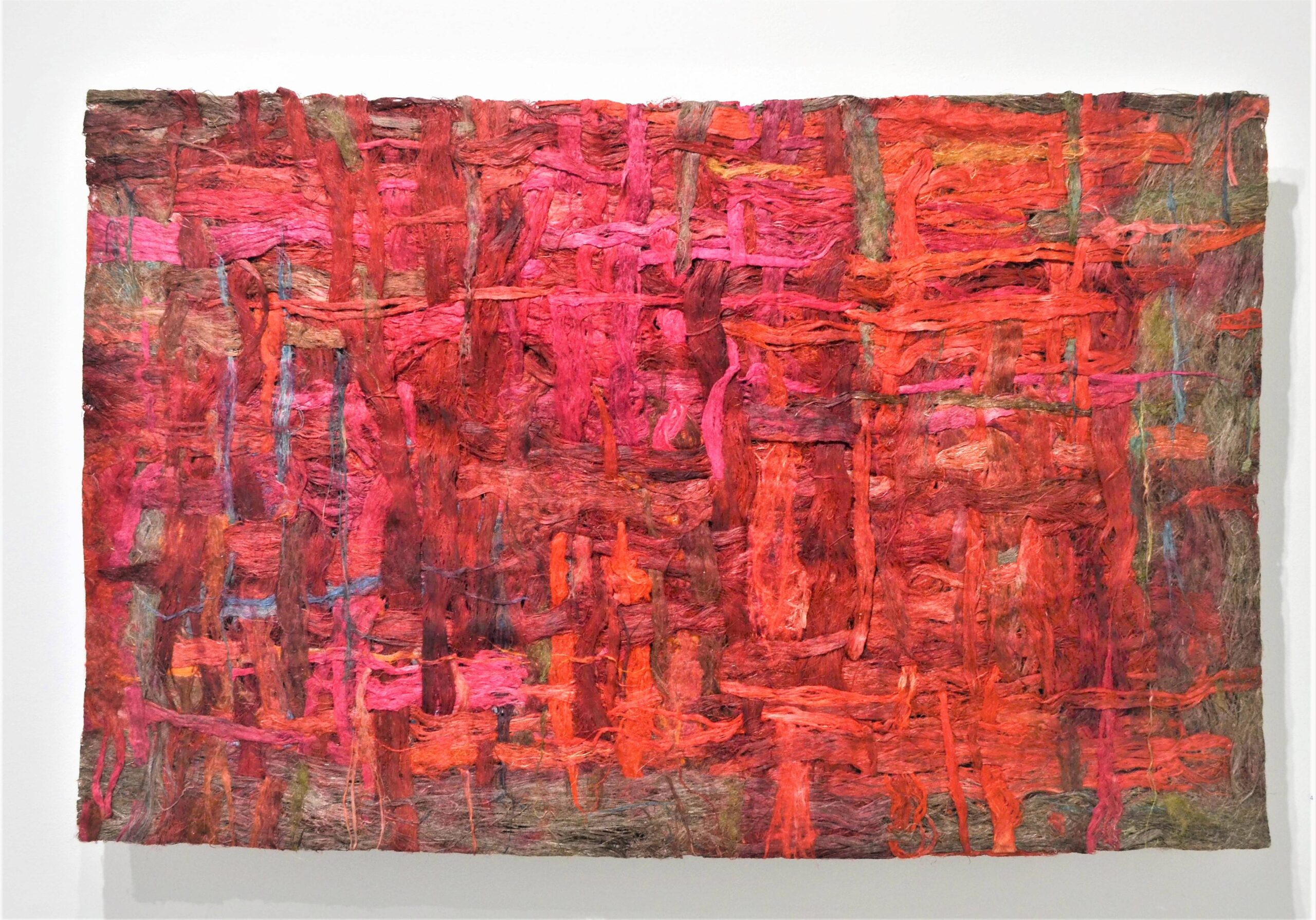 Pioni, 2022. Värjätty pellavakuitu, 164 x 105 cm.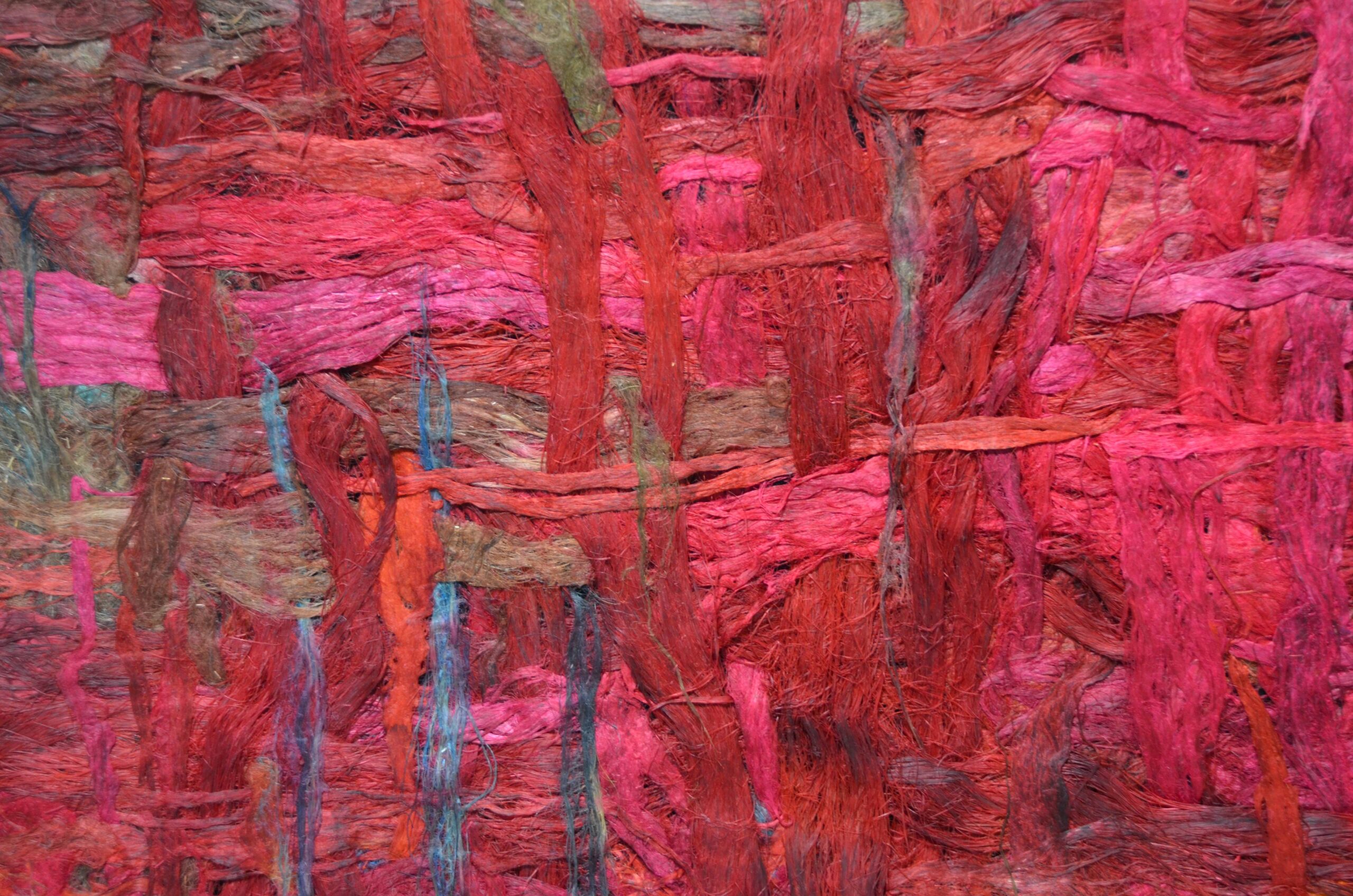 Auringon alla näyttelyn lähtökohtana ovat olleet elämän pienet ihmeet, onnen hetket ja toivo. Työskennellessäni ajan kulku, muistot väreistä, valosta, kesän kukat, vehreys, kuihtuminen ja katoavaisuus ovat kuljettaneet ajatuksia. Minulle tutut tekniikat ja materiaalit kuten esimerkiksi pellavakuitu, paperi, silkki, kasvien osat, lanka ja vanhojen teosteni osat ovat mukana näyttelyn töissä.
Materiaali on minulle merkityksellistä. Luonnosta keräämieni materiaalien löytöpaikka tai alkuperä, ajan jäljet, tuntu ja herkkyys saattavat vaikuttaa teoksen syntyyn ja sen sisältöön.
Näyttelyssä on mukana myös videoteos " Kukkani sinä olet". Teosta kuvattiin kotipihallani keväästä pitkälle syksyyn vuonna 2020.
Helena Kaikkonen on Oululainen tekstiili- ja kuvataiteilija. Hän valmistui tekstiilitaiteilijaksi Bergenistä Norjasta v.1992. Siitä lähtien hän on osallistunut kotimaisiin ja kansainvälisiin näyttelyihin, tehnyt julkisia teoksia, ympäristötaidetta, yhteisötaideprojekteja ja videoteoksia. Hänen teoksiaan on mm. Valtion taidekokoelmassa, Oulun taidemuseon kokoelmassa ja yksityisissä kokoelmissa. Kaikkonen työskentelee Pikisaaren Vanhassa Villatehtaassa Oulussa. Hän on Muu ry:n ja Oulun taiteilijaseuran jäsen. Hänelle myönnettiin ylimääräinen taiteilijaeläke tänä vuonna.
UNDER THE SUN
The starting point for the Under the Sun exhibition has been life's small miracles, moments of happiness and hope. "While working, the passage of time, memories of colours, light, summer flowers, greenery, fading and transience have carried me through the moments of my life, of colours, of light, of summer flowers, of greenery, of fading and transience. Techniques and materials familiar to me, such as linen fibre, paper, silk, plant parts, yarn and parts of my old works are included in the exhibition's works. The material is meaningful to me. The materials I collect from nature, the place of discovery or origin, the traces of time, the feel and sensitivity of the creation of a work and its content".
The exhibition also includes the video work "My flower you are", which was filmed in my back garden from spring to late autumn 2020.
Helena Kaikkonen is a textile and visual artist from Oulu. She graduated as a textile artist in Bergen, Norway in 1992. Since then, she has participated in national and international exhibitions, has created commissioned public works, environmental art, community art projects and video works. Her works are included in collections such as the Finland's State Art Deposit Collection, the Oulu Art Museum and also private collections. Kaikkonen works at the Old Woolen Factory (Villatehdas) in Pikisaari, Oulu. She is a member of Muu ry and the Oulu Artists's Association. This year she was awarded with an additional artist's pension.
www.kuvataiteilijamatrikkeli.fi
Thanks to the Arts Promotion Centre for supporting the exhibition.
​Kiitokset Taiteen edistämiskeskukselle näyttelyn tukemisesta.