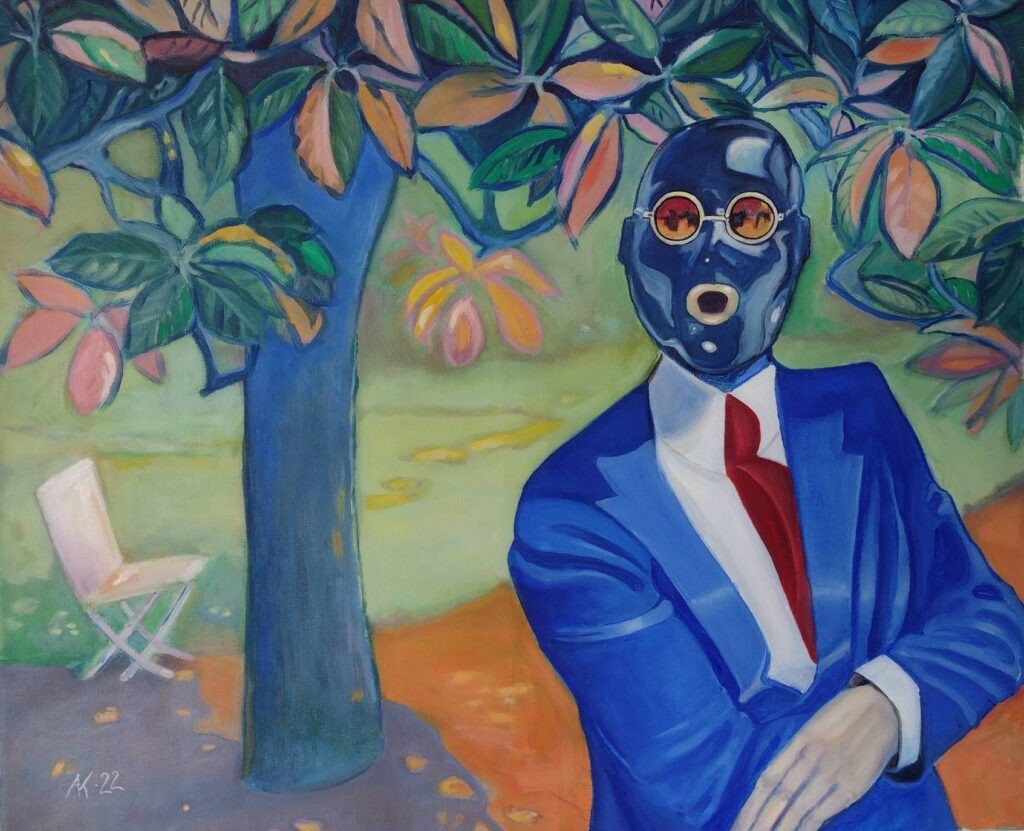 Fin­nish artist ANNA KLAUS stu­died pain­ting under dif­fe­rent teac­hers all trough the 1970's. She has been drawing and pain­ting semi-pro­fes­sio­nal­ly since the mid-80's.
In Fin­land ANNA KLAUS has so far only exhi­bi­ted her work in the late 1980's and ear­ly 1990's at a few col­lec­ti­ve exhi­bi­tions insi­de main­stream art forms, but as a fetish artist her works have appea­red in many cent­ral Euro­pean magazi­nes since 1993. In 1995 the Dutch com­pa­ny SublieM publis­hed two of ANNA's pain­tings as postcards.
ANNA KLAUS' first fetish art solo exhi­bi­tion was held at the Euro­per­ve gala (orga­nized by Demask) in Ams­ter­dam in 1998. Anna's inter­na­tio­nal breakth­rough came in 1999 at the first inter­na­tio­nal fetish art fair, Art­Bizar­re 99 (orga­nized by Marquis) in Cologne/Köln. With 50 exhi­bi­ted pain­tings the Kin­ky Copen­ha­gen event (orga­nized by Bite The Apple / Mani­fest) in 2003 was so far the lar­gest showing of ANNA KLAUS' artwork. From this exhi­bi­tion some works were acqui­red by the Copen­ha­gen Museum Erotica.
In 2004 visi­tors of the all-Euro­pean net­si­te dom-unique.com voted ANNA KLAUS fetish pain­ter of the year. In 2005 ANNA KLAUS exhi­bi­ted at the Fetish Evo­lu­tion Expo in Ratin­gen, Ger­ma­ny. At all of the fetish exhi­bi­tions men­tio­ned abo­ve, ANNA KLAUS exhi­bi­ted under the name Anna Kuri­tus. From the begin­ning of 2017 she chan­ged her name to ANNA KLAUS.
ANNA KLAUS' next fetish art exhi­bi­tion will occur at Gal­le­ria A2 in Hel­sin­ki in June-July 2023. It will be a ret­ros­pec­ti­ve celebra­ting her 30 years as a fetish painter.
Gal­le­ria A2 jar­jes­tää ANNA KLAUSin fetis­si­tai­de­näyt­te­lyn kesä-hei­nä­kuus­sa 2023. Kysees­sä on ANNAn ensim­mai­nen fetis­si­toi­den näyt­te­ly hanen koti­maas­saan, ja se tulee ole­maan koko hänen 30-vuo­ti­sen uran­sa kat­ta­va retrospektiivi.