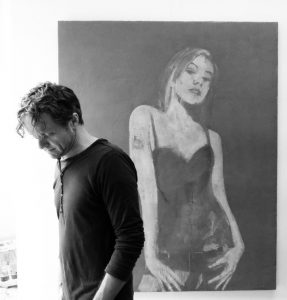 KAI SAVELSBERG (b. 1975)
Kai Savelsberg leikkaa maalauksissaan ympäröivää maailmaa ja muuttaa sen päähenkilöt näyttelijöikseen, seuralaisikseen ja edustajikseen. Tämä vuoropuhelu näkyy hänen maalauksissaan kuin myös veistoksissaan sekä teksteissään.
Muotokuvat, hahmot, sisätilat, maisemat, asetelmat ja arkkitehtuuri yhdistyvät taiteelliseksi luomuksiksi, jotka syntyvät maalauksen pinnan jäsentelystä ja vahingoittamisesta, johon hän kollaasimaisesti yhdistää erilaisia materiaaleja. Kai Savelsbergia edustavat useat kansainväliset taidegalleriat. Vuonna 2011 hänet palkittiin Johann-Isaak-Von Gerning-taidepalkinnolla. Hänen teoksiaan ja tekstejään on julkaistu Zwiesprachessa (2008), Und von vornissa (2012) ja viimeksi kirjassa Stille Post (2020).
Kai Savelsberg lives and works in Aachen, Germany.
KAI SAVELSBERG (b. 1975)
In his paintings, Kai Savelsberg dissects the world that surrounds him and turns the protagonists into his actors, companions and representatives. This dialogue echoes in his paintings and sculptures as well as in his texts.
Portraits, figures, interiors, landscape, still life and architecture are united in an artistic creation that emerges from structuring and causing damage to the painting's surface, into which he collages a variety of materials. Kai Savelsberg is represented by several international art galleries. In 2011 he was awarded with the Johann-Isaak-Von-Gerning Art Prize. His art works and texts have been published in Zwiesprache (2008), Und von vorn (2012) and most recently in the book Stille Post (2020).
Kai Savelsberg lives and works in Aachen, Germany.