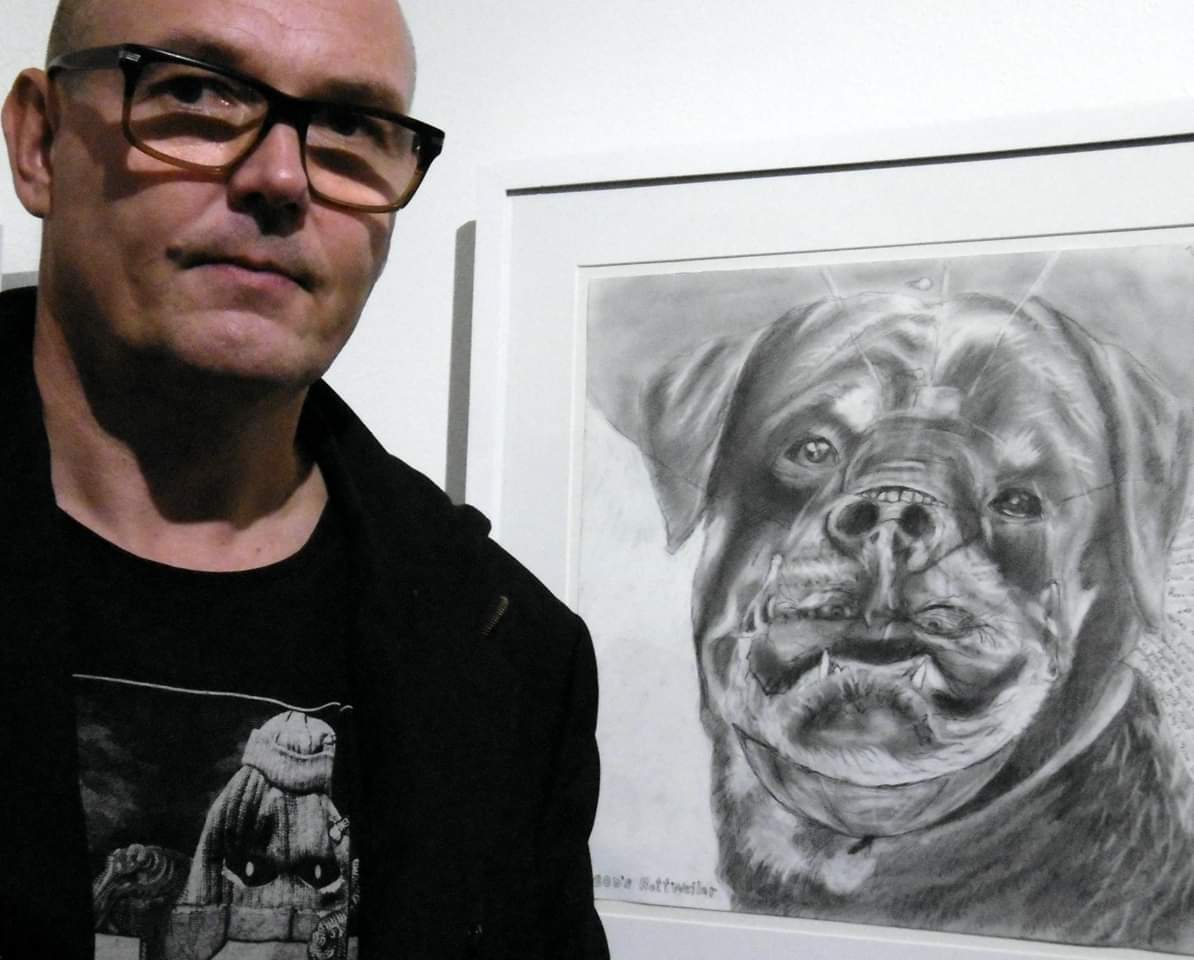 ILKKA SARIOLA (s. 1969)
Olen helsinkiläinen kuvataiteilija, teologi ja pappi (s. 1969). Vuonna 1995 valmistuin Kuvataideakatemiasta, minkä jälkeen tein kymmenvuotisen taiteilijauran ja tulin tunnetuksi sekä piirtäjänä että performanssitaiteilijana. Tuolloin pidin viimeisen näyttelyn Kluuvin galleriassa Helsingissä vuonna 2004. Sen jälkeen lähdin opiskelemaan teologiaa Helsingin yliopistossa ja valmistuttuani toimin Kallion seurakunnan pastorina vuodesta 2010 – 2016. Vuonna 2018 tein näyttävän paluun taidekentälle mittavassa piirustusnäyttelyssäni "Shit Happens" Galleria Ortonissa Helsingissä. Prosessi alkoi kuitenkin jo vuonna 2015, jolloin aloin maalata modernia kärsimyskrusifiksia. Myös vanha rakkauteni piirtämiseen syttyi uudestaan. Tämän jälkeen olen pitänyt säännöllisesti yksityisnäyttelyitä ja osallistunut useisiin yhteisnäyttelyihin.
ILKKA SARIOLA (b. 1969)
I am an artist, theologian and lutheran priest, living and working in Helsinki. I have lived a peculiar career. Year 1995 I graduated from Academy of Fine Arts Helsinki and after that I made 10 year career and became well known as a skillful drawing and performance artist. Year 2004 I exhibited at Gallery Kluuvi, Helsinki. That was the end of first half of my career as an artist. I  started to study theology at University of Helsinki and I was ordinated as priest 2010 and worked five years at Kallio congregation. Year 2018 I made a spectacular comeback exhibition "Shit Happens" in Gallery Orton, Helsinki. Although process has already started few years earlier when I painted my first passion crucifix after old Italian tradition. Also my old love to draw reemerged. Since then I have exhibited regularly.
DIES IRAE DRAWINGS 2019-2022
Dies irae, suomeksi Vihan päivä, on sielunmessun eli Requimin sequentia -jakson latinankielinen nimi. Tekstin kirjoittajaksi on arveltu fransiskaani veli Tuomas Celanolaista (1200-1265). Runon ensimmäinen säkeistö kuuluu seuraavasti: "Vihan päivä, tuomion päivä polttaa kerran maailman tuhkaksi: niin ennustavat Daavid ja Sibylla". Dies irae on Suomen evankelis-luterilaisen kirkon virsikirjassa numerolla 158, nimellä "Vihan päivä kauhistava!". Tekstin alkupuoli kertoo, kuinka kaikki ihmisen pahat teot lopulta paljastuvat ja "mikään ei jää kostamatta". Toinen puoli runoelmasta muuttaa näkökulman kostosta kirjoittajan omaan syyllisyyteen ja rukoukseen: "Huokaan kuin syyllinen: kasvot punaisena häpeästä: Säästä katuvaa, Jumala."
Dies Irae, in English, Day of Wrath, is the Latin name for the Soul Mass Requiem. The author of the text is thought to be the Franciscan brother Tuomas of Celano (1200-1265). The first verse of the poem reads: "The day of wrath, that day, will dissolve the world in ashes: (this is) the testimony of David along with Sibyl". Dies Irae is in the hymnbook of the Evangelical Lutheran Church of Finland under number 158, entitled "Terrible Day of Hate!". The first half of the text tells how all the evil deeds of man are finally revealed and "nothing will remain unpunished". The other half of the poem changes the perspective of revenge on the author's own guilt and prayer: "I sigh, like the guilty one: my face reddens in guilt: Spare the imploring one, O God."
Näyttelyt Exhibitions:
Päästä pahasta 11.-29.1.2023
Dark Storm 30.1.-17.2.2019